This article is incomplete.
This article is missing one or more sections. You can help the BirdForum Opus by expanding it.
Overview
Bali has long been one of the most visited tourist destinations in southeast Asia and despite the recent spate of terrorist attacks it remains popular. Its long history as a centre for tourism has led to severe habitat degradation and the island is ignored by many birders who tend to visit less westernised areas of Indonesia. However, Bali is home to the endemic Bali Mynah plus a good selection of more widespread Indonesian species and has all the tourist facilities one could wish for with abundant accommodation and easy travel, car hire etc.
Bali provides an ideal introduction to Indonesian birding and even the most developed areas hold a good range of species.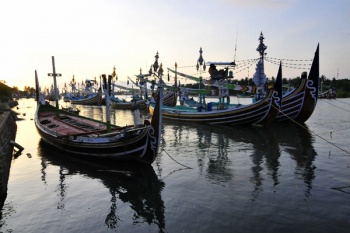 Birds
Notable Species
Bali is the first major island to the west of Wallace's Line. This biogeographical dividing line separates the Asian avifauna, to the west, from that of Wallacea which is the transitional zone between the Asian and Australasian avifaunas. Bali has several species such as Black-backed Fruit Dove, Rainbow Lorikeet, Yellow-crested Cockatoo and Indonesian Honeycreeper which are more closely linked to forms east of the line.
The honeycreeper and fruit dove can be seen in the montane forest around the crater lakes at Bedugul in central Bali as well as Flame-fronted Barbet, Javan Whistling Thrush, Sunda Warbler and Blood-breasted Flowerpecker.
There are many areas on Bali's south coast worth birding and mudflats and mangroves can hold Great-billed Heron and Pacific Reef Egret, waders such as Far Eastern Curlew, Grey-tailed Tattler, Asian Dowitcher and both Red-necked Stint and Long-toed Stint. Christmas Island Frigatebird and Lesser Frigatebird also occur as well as Little Pied Cormorant and Black-naped Tern. White-tailed Tropicbird is possible on the southernmost peninsula of Bukit and on the offshore island of Penida where Yellow-crested Cockatoo also occurs.
Checklist
Birds you can see here include:
Little Grebe, Australasian Little Grebe, Wilson's Storm Petrel, White-tailed Tropicbird, Little Pied Cormorant, Christmas Island Frigatebird, Great Frigatebird, Lesser Frigatebird, Purple Heron, Great-billed Heron, White-faced Heron, Pacific Reef Egret, Intermediate Egret, Great Egret, Cattle Egret, Javan Pond Heron, Striated Heron, Yellow Bittern, Cinnamon Bittern, Black Bittern, Milky Stork, Asian Woolly-necked Stork, Lesser Adjutant Stork, Royal Spoonbill, Wandering Whistling Duck, Grey Teal, Pacific Black Duck, Osprey, Black-shouldered Kite, Brahminy Kite, White-bellied Sea Eagle, Short-toed Eagle, Crested Serpent Eagle, Japanese Sparrowhawk, Besra Sparrowhawk, Asian Crested Goshawk, Chinese Goshawk, Common Buzzard, Indian Black Eagle, Rufous-bellied Hawk-Eagle, Booted Eagle, Changeable Hawk-Eagle, Black-thighed Falconet, Moluccan Kestrel, Nankeen Kestrel, Oriental Hobby, Peregrine Falcon (other races in winter), Blue-breasted Quail, Green Junglefowl, Small Buttonquail, Barred Buttonquail, Slaty-breasted Rail, Red-legged Crake, White-browed Crake, Ruddy-breasted Crake, White-breasted Waterhen, Watercock, Common Moorhen, Black-backed Swamphen, Common Coot, Pied Stilt, Beach Thick-knee, Oriental Pratincole, Australian Pratincole, Pacific Golden Plover, Grey Plover, Long-billed Plover, Ringed Plover, Little Ringed Plover, Kentish Plover, Javan Plover, Malaysian Plover, Lesser Sand Plover, Greater Sand Plover, Oriental Plover, Black-tailed Godwit, Bar-tailed Godwit, Eurasian Curlew, Far-Eastern Curlew, Eurasian Whimbrel, Common Redshank, Marsh Sandpiper, Common Greenshank, Wood Sandpiper, Common Sandpiper, Terek Sandpiper, Grey-tailed Tattler, Ruddy Turnstone, Asian Dowitcher, Long-billed Dowitcher, Pintail Snipe, Swinhoe's Snipe, Common Snipe, Great Knot, Red-necked Stint, Long-toed Stint, Sharp-tailed Sandpiper, Curlew Sandpiper, Sanderling, Broad-billed Sandpiper, Ruff, Red-necked Phalarope, Arctic Skua, Long-tailed Skua, Whiskered Tern, White-winged Tern, Gull-billed Tern, Common Tern, Roseate Tern, Black-naped Tern, Bridled Tern, Little Tern (sinensis Nov-Mar), Greater Crested Tern, Lesser Crested Tern, Common Dove, Sunda Collared Dove, Spotted Dove, Barred Dove, Ruddy Dove, Little Cuckoo Dove, Emerald Dove, Zebra Dove, Grey-cheeked Green Pigeon, Orange-breasted Green Pigeon, Pink-necked Green Pigeon, Pink-necked Fruit Dove, Black-naped Fruit Dove, Black-backed Fruit Dove, Green Imperial Pigeon, Pied Imperial Pigeon, Dark-backed Imperial Pigeon, Rainbow Lorikeet, Yellow-crested Cockatoo (escapes elsewhere), Moustached Parakeet, Yellow-throated Hanging Parrot, Large Hawk Cuckoo, Hodgson's Hawk Cuckoo, Oriental Cuckoo, Banded Bay Cuckoo, Plaintive Cuckoo, Rusty-breasted Cuckoo, Horsfield's Bronze Cuckoo, Square-tailed Drongo-Cuckoo, Common Koel, Chestnut-breasted Malkoha, Greater Coucal, Lesser Coucal, Barn Owl, Oriental Bay Owl, Collared Scops-Owl, Barred Eagle Owl, Buffy Fish Owl, Chestnut-winged Owl, Large-tailed Nightjar, Savanna Nightjar, Edible-nest Swiftlet, Cave Swiftlet, Asian Palm-Swift, Brown Spinetail, Pacific Swift, Little Swift, Grey-rumped Treeswift, Common Kingfisher, Blue-eared Kingfisher, Small Blue Kingfisher, Rufous-backed Kingfisher, Javan Kingfisher, Sacred Kingfisher, Collared Kingfisher, Blue-tailed Bee-eater, Chestnut-headed Bee-eater, Rainbow Bee-eater, Eastern Broad-billed Roller, Wreathed Hornbill, Oriental Pied Hornbill, Lineated Barbet, Black-banded Barbet, Blue-crowned Barbet, Little Barbet, Coppersmith Barbet, Sunda Pygmy Woodpecker, Freckle-breasted Woodpecker, Laced Woodpecker, White-bellied Woodpecker, Common Flameback, Javan Flameback, Banded Woodpecker, Javan Banded-Pitta, Singing Bushlark, Barn Swallow, Pacific Swallow, Striated Swallow, Asian House Martin, Grey Wagtail, Yellow Wagtail, Paddyfield Pipit, Javan Cuckoo-Shrike, Lesser Cuckoo-Shrike, White-winged Cuckooshrike, Small Minivet, Scarlet Minivet, Black-winged Flycatcher-Shrike, Black-headed Bulbul, Sooty-headed Bulbul, Orange-spotted Bulbul, Yellow-vented Bulbul, Brown-cheeked Bulbul, Common Iora, Greater Green Leafbird, Tiger Shrike, Brown Shrike, Long-tailed Shrike, Lesser Shortwing, Asian Magpie-Robin, Pied Bushchat, White-crowned Forktail, Javan Whistling Thrush, Chestnut-capped Ground Thrush, Orange-headed Ground Thrush, Sunda Ground Thrush, Siberian Ground Thrush, Scaly Thrush, Eyebrowed Thrush, Horsfield's Jungle Babbler, Javan Bush Warbler, Crescent-chested Warbler, Sunda Warbler, Russet Bush Warbler, Striated Grassbird, Pallas's Grasshopper Warbler, Styan's Warbler, Oriental Reed Warbler, Zitting Cisticola, Golden-headed Cisticola, Bar-winged Prinia, Mountain Tailorbird, Olive-backed Tailorbird, Mountain Leaf Warbler, Sunda Warbler, Fulvous-chested Flycatcher, Asian Brown Flycatcher, Snowy-browed Flycatcher, Yellow-rumped Flycatcher, Mugimaki Flycatcher, Little Pied Flycatcher, Mangrove Niltava, Grey-headed Canary Flycatcher, Golden-bellied Gerygone, Malaysian Pied Fantail, Mangrove Whistler, Golden Whistler, Cinereous Tit, Orange-bellied Flowerpecker, Blood-breasted Flowerpecker, Scarlet-headed Flowerpecker, Blue-cheeked Flowerpecker, Plain Flowerpecker, Brown-throated Sunbird, Olive-backed Sunbird, Little Spiderhunter, Grey-breasted Spiderhunter, Sangkar White-eye, Lemon-bellied White-eye, Warbling White-eye, Javan Grey-throated White-eye, Indonesian Avadavat, Red Avadavat, Javan Munia, Scaly-breasted Munia, Chestnut Munia, White-headed Munia, Black-faced Munia, Java Sparrow, Eurasian Tree Sparrow, Streaked Weaver, Short-tailed Starling, Asian Glossy Starling, Javan Pied Starling, Black-winged Myna, Bali Myna, White-vented Myna, Common Hill Myna, Black-naped Oriole, Black Drongo, Ashy Drongo, Hair-crested Drongo, Greater Racket-tailed Drongo, White-breasted Woodswallow, Black Racquet-tailed Treepie, Slender-billed Crow, Large-billed Crow
Other Wildlife
To do
Site Information
History and Use
To do
Areas of Interest
The endemic mynah is now very rare and is found only in the Bali Barat National Park in the north-west of the island. This small population survives under strict protection and the areas of the park in which it is found are generally closed to visitors. However, the birds can sometimes be seen in the accessible areas and there is a pre-release training centre with captive-bred birds.
There are plenty of other species to be found including Great-billed Heron, Green Junglefowl, Javan Plover and Yellow-throated Hanging-Parrot, Javan Kingfisher and Small Blue Kingfisher, Javan Cuckoo-Shrike and Black-winged Myna. Raptors include Grey-headed Fishing-Eagle, Rufous-bellied Hawk-Eagle and Black-thighed Falconet and Collared Scops-Owl, Barred Eagle-Owl and Buffy Fish-Owl are present.
The park now covers more than 760sqkm of forest and open savanna-type woodland, mangroves and offshore islets and can be reached by road from Bali's capital Denpasar, or by ferry from Java via Gilimanuk. Accommodation is available at Labuan Lalang and Gilimanuk and there is a campsite at Cekik.
The Prapat Agung Peninsula and the open plain of Tigal Bunder provide the best birding and boat-trips to Menjangan Island can be arranged at Labuan Lalang. This island has Beach Thick-knee, Javan Plover and Oriental White-eye as well as a thriving population of Barking Deer and some excellent snorkelling.
Access and Facilities
Accommodation is plentiful and ranges from simple rooms and huts to luxury hotels and there is an excellent public transport system.
Contact Details
To do
External Links
Content and images originally posted by Steve