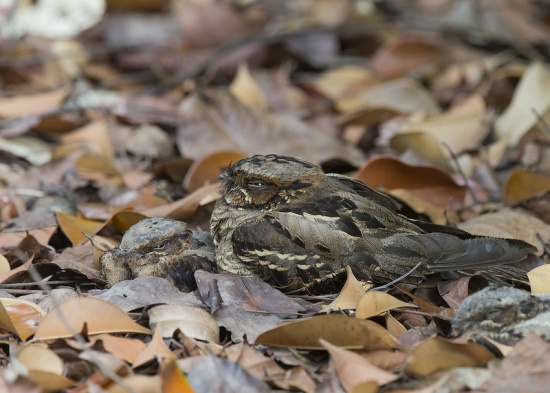 Caprimulgus macrurus
Identification
25–29 cm (9¾-11½ in)
Greyish-brown upperparts, with blackish-brown streaks

Sexually dimorphic
Distribution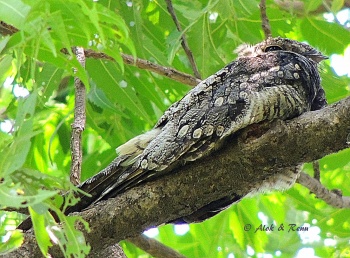 Southern Asia, northeast Pakistan, East Indies to northern and eastern Australia.
Taxonomy
Andaman Nightjar C. andamanicus has been split from C. macrurus (Sangster & Rozendaal, 2004; Clements, 2007; Gill & Wright, 2008).
Subspecies
There are 6 subspecies[1]:
North Borneo, Labuan, Balambangan, Banguey and southern Sula islands
Habitat
They use a variety of habitats, showing a preference for areas with trees, mostly deciduous woodland and bamboo.
Behaviour
Diet
Their diet consists almost entirely of flying insects, such as moths, crickets, wasps and grasshoppers.
Breeding
An unlined nest is made on ground. Their clutch contains 2 pale cream eggs, with brown spots. Incubation by female lasts 21–22 days; fledging period is about three weeks.
References
Clements, J. F., T. S. Schulenberg, M. J. Iliff, D. Roberson, T. A. Fredericks, B. L. Sullivan, and C. L. Wood. 2017. The eBird/Clements checklist of birds of the world: v2017, with updates to August 2017. Downloaded from http://www.birds.cornell.edu/clementschecklist/download/
Sangster, G. and Rozendaal, F. G. (2004) Systematics on Asian birds, 41. Territorial songs and species-level taxonomy of nightjars of the Caprimulgus macrurus complex, with description of a new species. Zool. Verh. 350: 7-45.
Handbook of the Birds of the World Alive (retrieved June 2018)
Animalia Life
Recommended Citation
External Links
Search the Gallery using the scientific name:

Search the Gallery using the common name:
GSearch checked for 2020 platform.