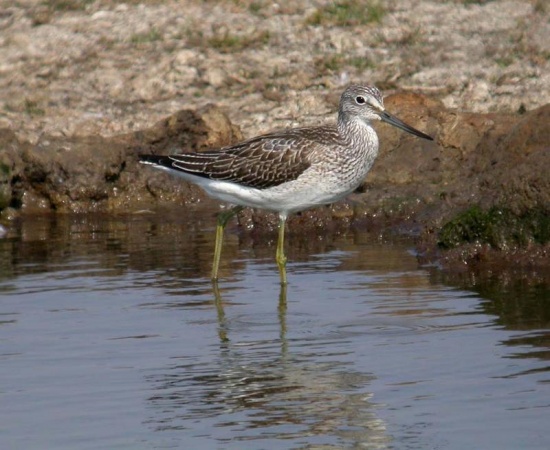 Tringa nebularia
Identification
Grey-brown upperparts
Pale underparts
Dark grey flecks on head and neck
Narrow white eye ring
Dark outer-wing
White rump and back
Dark to green-grey long, upward curved bill
Yellowish-green long legs

Breeding birds
Bold black chevrons on chest
Heavily streaked and marked upper body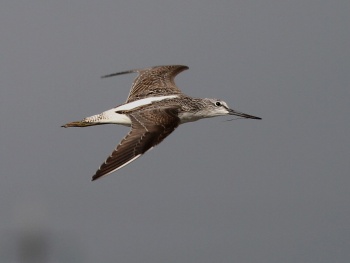 Distribution
Africa, Coastal Asia, India, the Philippines, southern New Guinea and Australia.
Taxonomy
This is a monotypic species[1].
Subspecies glottoides is not recognised by most authorities[2].
Habitat
Coastal areas and inland, estuaries, mudflats, mangrove swamps, lagoons, swamps, and flooded crops.
Behaviour
Diet
The diet includes insects, worms, molluscs, small fish and crustaceans.
Breeding
The male builds the nest, a shallow depression lined with feathers and vegetation. Both sexes share the incubation and the raising of the young.
Vocalisation
Call: tyew_tyew_tyew
Song: repetitive and persistant clu_wee" delivered in high flight.
References
Clements, JF. 2010. The Clements Checklist of Birds of the World. 6th ed., with updates to December 2010. Ithaca: Cornell Univ. Press. ISBN 978-0801445019. Spreadsheet available at http://www.birds.cornell.edu/clementschecklist/Clements%206.5.xls/view
Avibase
Collins Bird Guide ISBN 0 00 219728
Birds in Backyards
Recommended Citation
External Links
GSearch checked for 2020 platform.1