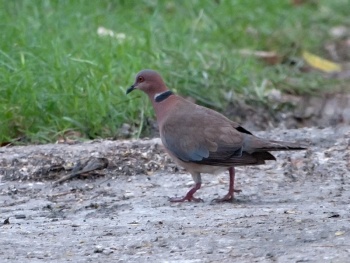 Streptopelia bitorquata
Identification
Length: 33 cm (13 in)

Gray-brown with rosy breast.
Black half-collar nape edged with white
Long tail with white border
Juvenile's nape mark confined to sides of neck.
Distribution
Java, Bali and Lombok to Sumbawa, Flores, Solor, and Timor.
Taxonomy
This is a monotypic species[1].
Philippine Collared Dove and Sunda Collared Dove were previously one species under the name of Island Collared Dove.
Habitat
Often in mangroves, but also open woodlands in the lowlands as well as cultivated and urban areas.
Behaviour
Diet
Forages on the ground for seeds.
Breeding
Flimsy nest of small twigs. Clutch consists of two white eggs.
Vocalisation
Javan birds have a three-note song with a thick rolling throaty quality, first note highest, second lower and longest, third lowest and shortest.
Movements
Mostly resident.
References
BirdLife International 2018. Streptopelia dusumieri. The IUCN Red List of Threatened Species 2018: e.T22727533A132177741. http://dx.doi.org/10.2305/IUCN.UK.2018-2.RLTS.T22727533A132177741.en. Downloaded on 29 October 2019.
Collar, N.J. (2011) Species limits in some Philippine birds including the Greater Flameback Chrysocolaptes lucidus. Forktail 27: 29-38.
Christidis et al. 2018. The Howard and Moore Complete Checklist of the Birds of the World, version 4.1 (Downloadable checklist). Accessed from https://www.howardandmoore.org.
Clements, J. F., T. S. Schulenberg, M. J. Iliff, S. M. Billerman, T. A. Fredericks, J. A. Gerbracht, D. Lepage, B. L. Sullivan, and C. L. Wood. 2021. The eBird/Clements checklist of Birds of the World: v2021. Downloaded from https://www.birds.cornell.edu/clementschecklist/download/
del Hoyo, J., Collar, N. & Kirwan, G.M. (2019). Philippine Collared-dove (Streptopelia dusumieri). In: del Hoyo, J., Elliott, A., Sargatal, J., Christie, D.A. & de Juana, E. (eds.). Handbook of the Birds of the World Alive. Lynx Edicions, Barcelona. (retrieved from https://www.hbw.com/node/467130 on 29 October 2019).
Gill, F, D Donsker, and P Rasmussen (Eds). 2021. IOC World Bird List (v 11.2). Doi 10.14344/IOC.ML.11.2. http://www.worldbirdnames.org/
Goodwin, D. (1983) Pigeons and Doves of the World. Cornell Univ. Press.
Pratt, H.D., Bruner, P., and Berrett, D.G. (1987) A Field Guide to the Birds of Hawaii and the Tropical Pacific. Princeton University Press
Recommended Citation
External Links
GSearch checked for 2020 platform.