| | |
| --- | --- |
| Looking for something? Search for it here. | |
Birds & Bird Song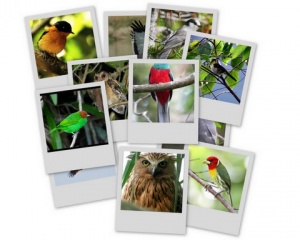 Welcome
Welcome to the bird encyclopedia section of Opus. To find a bird you are looking for, you can search using the search box to the above, or left, of this page, or you can jump to the first letter in the index using the 'Quick Jump A-Z' above.
You can also browse by taxonomy.
Bird Song
Bird songs are included on the birds that have them, alternatively you can click here to see and listen to the current list.
Statistics
In the Opus there are 10691 bird species listed, of which 8,464 currently have an image taken or produced by our members.

Struthioniformes
Ostriches
Rheiformes
Rheas
Tinamiformes
Tinamous
Casuariiformes
Cassowaries and Emu
Apterygiformes
Kiwis
Anseriformes
Ducks, geese and allies
Galliformes
Fowl and allies
Phoenicopteriformes
Flamingos
Podicipediformes
Grebes
Columbiformes
Pigeons and allies
Mesitornithiformes
Mesites
Pterocliformes
Sandgrouse
Otidiformes
Bustards
Musophagiformes
Turacos
Cuculiformes
Cuckoos and allies
Caprimulgiformes
Nightjars, frogmouths, swifts and hummingbirds
Opisthocomiformes
Hoatzin
Gruiformes
Cranes, rails and allies
Charadriiformes
Shorebirds, gulls and allies
Eurypygiformes
Kagu and Sunbittern
Phaethontiformes
Tropicbirds
Gaviiformes
Loons / divers
Sphenisciformes
Penguins
Procellariiformes
Petrels, shearwaters and allies
Ciconiiformes
Storks
Suliformes
Boobys, Frigatebirds and Coromorants
Pelecaniformes
Pelicans, Herons and Ibises
Cathartiformes
New World Vultures
Accipitriformes
Buzzards, Eagles, Kites, Hawks, Vultures
Strigiformes
Owls
Coliiformes
Mousebirds
Leptosomiformes
Cuckoo-Roller
Trogoniformes
Trogons and allies
Bucerotiformes
Hornbills, hoopoe and woodhoopoes
Coraciiformes
Kingfishers, rollers and allies
Galbuliformes
Jacamars and allies
Piciformes
Woodpeckers and allies
Cariamiformes
Seriemas
Falconiformes
Falcons and Caracaras
Psittaciformes
Parrots and allies
Passeriformes
Passerines / perching birds (5,000+ species)