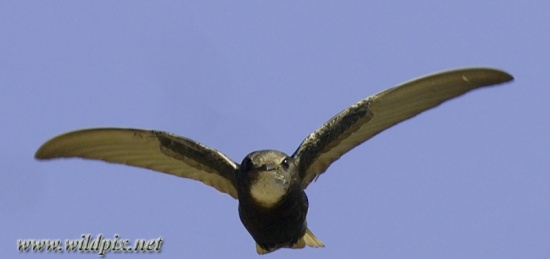 Apus affinis
Identification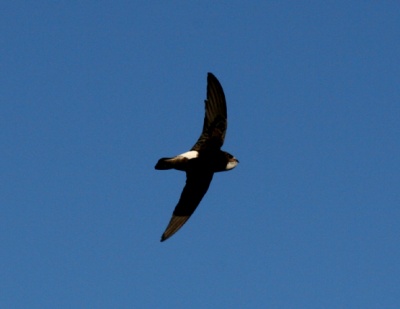 12 cm (4¾ in): wingspan 33cm

Overall black plumage
Throat white and (always) sharply demarcated from darker head
Face may be pale but doesn't appear pale headed
Rump white wrapping down onto flanks
Vent area often noticeably paler than dark belly
Tail short square, often with slight central cleft
Similar species
Various other white-rumped swifts, especially House Swift when that is treated as distinct (which see) and Horus Swift (see House Swift). See the following for a detailed comparison: Identifying small white-rumped swifts.
Distribution
Africa and Asia
In Africa south of the Sahara, locally also Northern Africa. In the Middle East in Israel and Turkey. From there east to Iran, Pakistan and India.
Common in sub-Saharan Africa and India.
Local and scarce in the rest of its range. Not globally threatened.
Also occurs on European side of the Gibraltar Strait per BF members observations.
Northernmost populations migratory in for example Middle East.
Taxonomy
Forms a superspecies with House Swift Apus nipalensis and is often considered conspecific. Sometimes also called House Swift (and the House Swift is sometimes called Little Swift) so confusion is easily possible.
Subspecies
Clements recognises the following subspecies [1]:
Habitat
Aerial; nests on cliffs, buildings and bridges.
Behaviour
Breeding
The 1-4 eggs are laid in nests built in colonies on cliffs, buildings and bridges.
Diet
Diet includes insects caught in flight.
References
Clements, J. F., T. S. Schulenberg, M. J. Iliff, D. Roberson, T. A. Fredericks, B. L. Sullivan, and C. L. Wood. 2018. The eBird/Clements checklist of birds of the world: v2018. Downloaded from http://www.birds.cornell.edu/clementschecklist/download/
Recommended Citation
External Links
GSearch checked for 2020 platform.1