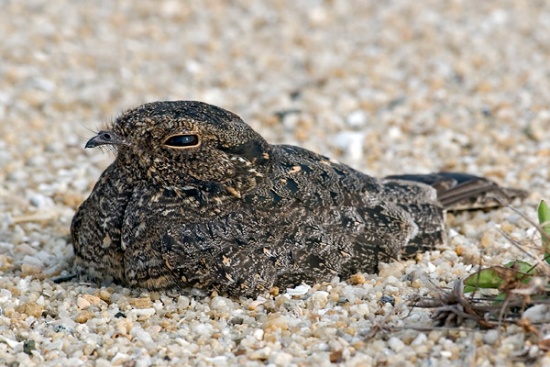 Caprimulgus affinis
Includes Franklin's Nightjar
Identification
Plumage greyish brown with fine blackish mottles on upper parts.
Male: From all nightjars by all white outer tail feathers.Has white patchs on the wings.
Female: Entire tail greyish brown with buff wing patch.
Similar Species
From Large-tailed Nightjar by the slimmer appearance and short tail and lacking the bold markings on the upperparts of the former.
Distribution
The India subcontinent east to south China, Southeast Asia to the Greater and Lesser Sundas, Sulawesi and the Philippines.
Taxonomy
Subspecies[1]
Southern Philippines (Mindanao); sight record from Jolo (Sulu Arch.)
Habitat
Scrub, open country, grassland with open stoney patches. (Favourite nesting sites.)
Behaviour
Usualy solitary but small parties of three or four may hawk for insects together. Very vocal in flight,which is swifter and more erratic than Large-tailed Nightjar. Often seen sitting on tracks at dusk.
Vocalisation
A harsh rasping high-pitch CHWEEZ uttered both in flight and at rest.
References
Clements, JF. 2009. The Clements Checklist of Birds of the World. 6th ed., with updates to December 2009. Ithaca: Cornell Univ. Press. ISBN 978-0801445019.
Recommended Citation
External Links
GSearch checked for 2020 platform.