This article is incomplete.
This article is missing one or more sections. You can help the BirdForum Opus by expanding it.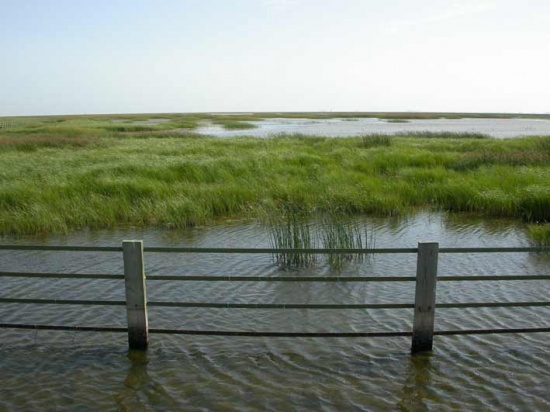 Overview
Despite its limited access this vast national park of over 1,300 km² is one of the most popular birding destinations in Europe with a wide range of interesting birds all year and internationally important numbers of waterfowl during winter and passage periods.
Much of the park is formed by the marismas of the Guadalquivir River, a large area of shallow lagoons and seasonally flooded salt flats protected from the sea by a large sand bar. Inland there are more dunes, and in turn, extensive Mediterranean scrub areas and stone pine and cork oak woodlands, each habitat having its own characteristic birds.
Birds
Notable Species
Breeding birds include Kentish Plover on the sandy beach and a variety of herons, egrets, Eurasian Spoonbill and White Stork as well as Marsh Harrier and Western Swamphen and various warblers on the wetter marismas.
In drier areas breeding raptors include Red Kite and Black Kite, Short-toed Eagle, Spanish Imperial Eagle and Booted Eagle. Black-shouldered Kite can often be found in the El Acebuche area. The scrub is home to warblers, chats, shrikes and larks with Iberian Magpie, Great Spotted Cuckoo, Crested Tit and Hawfinch among the many breeding birds of the woodlands.
In spring and autumn passage seabirds can be seen offshore including Northern Gannet, gulls (Audouin's Gull is seen fairly commonly), terns, skuas and large rafts of Common Scoter (sometimes including Velvet Scoter or even Surf Scoter).
The beach attracts waders on migration and most of the regular European species occur in good numbers and the flooded areas inland hold Common Crane, Greylag Goose and other geese and huge numbers of a range of northerly breeding ducks.
Rarities
One of the most sought after of all Western Palaearctic birds, the Andalusian Hemipode, may still breed in the Coto del Rey area in the north of the park. In addition there are records of exceptionally rare visitors to the Western Palearctic including Marabou Stork, Rüppell's Vulture and Grey-headed Gull and the now globally threatened Slender-billed Curlew has turned up in recent winters.
In total more than 360 bird species have been recorded in these marshes.
Check-list
Birds you can see here include:
Red-throated Diver, Little Grebe, Great Crested Grebe, Black-necked Grebe, Cory's Shearwater, Balearic Shearwater, Northern Gannet, Little Bittern, Black-crowned Night Heron, Squacco Heron, Cattle Egret, Little Egret, Grey Heron, Purple Heron, Black Stork, White Stork, Eurasian Spoonbill, Glossy Ibis, Greater Flamingo, Greylag Goose, Common Shelduck, Eurasian Wigeon, Gadwall, Common Teal, Mallard, Northern Pintail, Garganey, Northern Shoveler, Marbled Duck, Red-crested Pochard, Common Pochard, Ferruginous Duck, Tufted Duck, Common Scoter, Red-breasted Merganser, White-headed Duck, European Honey Buzzard, Black-shouldered Kite, Black Kite, Red Kite, Egyptian Vulture, Griffon Vulture, Eurasian Black Vulture, Short-toed Eagle, Western Marsh Harrier, Hen Harrier, Montagu's Harrier, Eurasian Sparrowhawk, Common Buzzard, Spanish Imperial Eagle, Booted Eagle, Bonelli's Eagle, Osprey, Lesser Kestrel, Common Kestrel, Merlin, Northern Hobby, Peregrine Falcon, Red-legged Partridge, Common Quail, Andalusian Hemipode, Water Rail, Spotted Crake, Little Crake, Baillon's Crake, Common Moorhen, Western Swamphen, Eurasian Coot, Crested Coot, Common Crane, Little Bustard, Eurasian Oystercatcher, Black-winged Stilt, Pied Avocet, Stone-curlew, Collared Pratincole, Little Ringed Plover, Ringed Plover, Kentish Plover, Eurasian Golden Plover, Grey Plover, Northern Lapwing, Red Knot, Sanderling, Little Stint, Temminck's Stint, Dunlin, Purple Sandpiper, Curlew Sandpiper, Ruff, Jack Snipe, Common Snipe, Eurasian Woodcock, Black-tailed Godwit, Bar-tailed Godwit, Whimbrel, Eurasian Curlew, Common Sandpiper, Spotted Redshank, Common Redshank, Marsh Sandpiper, Common Greenshank, Green Sandpiper, Wood Sandpiper, Ruddy Turnstone, Great Skua, Arctic Skua, Mediterranean Gull, Little Gull, Black-headed Gull, Slender-billed Gull, Audouin's Gull, Lesser Black-backed Gull, Yellow-legged Gull, Caspian Tern, Gull-billed Tern, Sandwich Tern, Common Tern, Little Tern, Black Tern, White-winged Tern, Whiskered Tern, Razorbill, Pin-tailed Sandgrouse, Common Woodpigeon, European Turtle Dove, Great Spotted Cuckoo, Common Cuckoo, Barn Owl, Eurasian Scops Owl, Little Owl, Tawny Owl, Short-eared Owl, Long-eared Owl, Red-necked Nightjar, Pallid Swift, Alpine Swift, Common Kingfisher, European Bee-eater, European Roller, Eurasian Hoopoe, Iberian Green Woodpecker, Great Spotted Woodpecker, Calandra Lark, Greater Short-toed Lark, Mediterranean Short-toed Lark, Crested Lark, Thekla Lark, Woodlark, Eurasian Skylark, Barn Swallow, Red-rumped Swallow, Eurasian Crag Martin, Northern House Martin, Sand Martin, Meadow Pipit, Tree Pipit, Water Pipit, Tawny Pipit, Grey Wagtail, Yellow Wagtail, White Wagtail, Dunnock, Rufous Bush Robin, Eurasian Robin, Common Nightingale, Bluethroat, European Stonechat, Whinchat, Common Redstart, Northern Wheatear, Western Black-eared Wheatear, Ring Ouzel, Eurasian Blackbird, Fieldfare, Mistle Thrush, Song Thrush, Redwing, Cetti's Warbler, Zitting Cisticola, Savi's Warbler, Common Grasshopper Warbler, Common Reed Warbler, Great Reed Warbler, Sedge Warbler, Western Olivaceous Warbler, Melodious Warbler, Dartford Warbler, Spectacled Warbler, Western Subalpine Warbler, Sardinian Warbler, Orphean Warbler, Common Whitethroat, Blackcap, Garden Warbler, Common Chiffchaff, Willow Warbler, Western Bonelli's Warbler, Common Firecrest, Spotted Flycatcher, European Pied Flycatcher, Crested Tit, Short-toed Treecreeper, Penduline Tit, Eurasian Golden Oriole, Iberian Grey Shrike, Woodchat Shrike, Iberian Magpie, Common Magpie, Common Starling, Spotless Starling, Spanish Sparrow, Eurasian Tree Sparrow, Common Waxbill, Red Avadavat, European Serin, Eurasian Linnet, Eurasian Siskin, Common Bullfinch, Hawfinch, Cirl Bunting, Rock Bunting, Ortolan Bunting, Reed Bunting, Corn Bunting
Other Wildlife
The most famous mammal of the area is the extremely rare Spanish Lynx which is very difficult to find but others such as Wild Boar, Red Deer and Fallow Deer are fairly easy to see.
Site Information
Coto Donana is worth visiting at any season but perhaps the least productive time is high summer when some areas can be overrun with tourists.
History and Use
Coto Donana derives from the hunting ground, Coto, and Dona Ana a wealthy landowner, who owned the land and used the area to entertain her guests.
Areas of Interest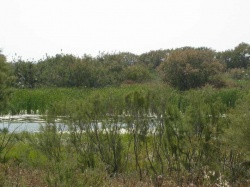 The park headquarters at El Acebuche has a lagoon nearby overlooked by hides giving excellent views of waterfowl and there are also good scrub-dwelling birds and both Iberian Magpie and Red-necked Nightjar close by.
The La Rocina information centre near El Rocio has a nature trail and hides beside a marshy area with Western Swamphen, Little Bittern and various waterfowl and waders. Many other birds including various herons, egrets and waders can be seen in the El Rocio area, especially when the marismas are flooded.
In the north is the Coto del Rey area with possible Andalusian Hemipode as well as Spanish Imperial Eagle and various warblers and larks.
Access and Facilities
Some areas are closed to the public and access is strictly controlled. This usually means it can be visited only as part of an organised trip of which there are two per day. A trip takes about four hours by landrover or minibus and takes the visitor through each of the main habitats. Although stops are made this is perhaps not the best way to see many of the park's birds. In 2008 the trips cost 25 Euros per person.
There are also private licensed operators who can take visitors into the park in appropriate vehicles. A small group of visitors will find this comparable in cost to the organised trip, and can be tailored to specific interests.
Contact Details
To do
External Links
ISBN 1-4251-2192-6 A Birdwatching Guide to Donana by John Butler
Maps
Coto Donana National Park on OpenStreetMap
Recommended Citation
Content and images originally posted by Steve
Reviews
kelvin.dunford's review
Based in El-Rocio there are various birding reserves within a twenty kilometre area which i have visited and would always see something different.This area is best visited during spring migration,during the autumn the area is very quiet due to the very low water levels ,if digiscoping .which i have just started to take interest in, then this area is ideal as the nature reserves close by have some elevated hides giving really good views over the reed beds and open water. good birding.
Pros
Excellant spring birding based in El-Rocio
Cons