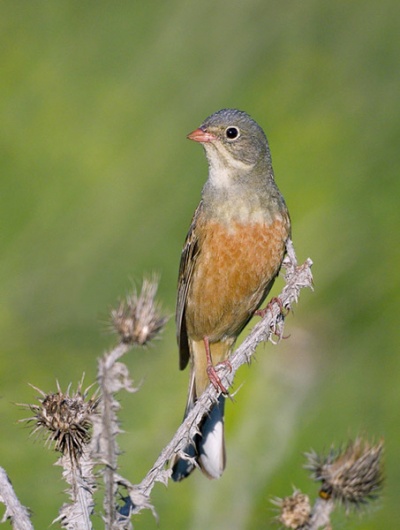 Emberiza hortulana
Identification
16 cm, 20-25g
Typical bunting, similar in size and shape to the Yellowhammer. Pink bill and yellow/light eye ring diagnostic.
Male has grey head with a small yellow dot on chin.
Female with distinctive black/white moustachial stripes. Rusty below, variegated rusty/black above.
Distribution
April to September: Europe and western Asia
October to March: Equatorial sub-Saharan Africa
Occurance is mostly unexplainably sporadic throughout range but tends to prefer drier regions with a mix of shrubbery and diverse farmland.
Taxonomy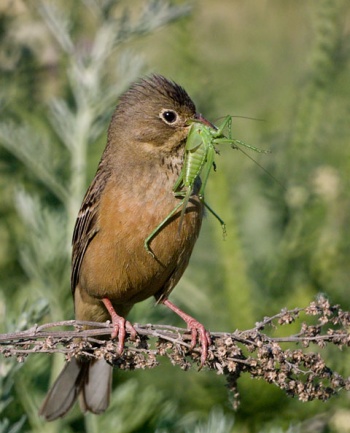 This is a monotypic species[1].
Habitat
Scrub, farmland, towns.
Behaviour
Breeding
They nest on or near the ground.
Diet
They are mainly seeds eaters, supplemented by beetles and other insects when feeding young.
Vocalisation
References
Clements, JF. 2010. The Clements Checklist of Birds of the World. 6th ed., with updates to December 2010. Ithaca: Cornell Univ. Press. ISBN 978-0801445019. Spreadsheet available at http://www.birds.cornell.edu/clementschecklist/Clements%206.5.xls/view
Wikipedia
Recommended Citation
External Links
GSearch checked for 2020 platform.1