Alternative Name: Griffon Vulture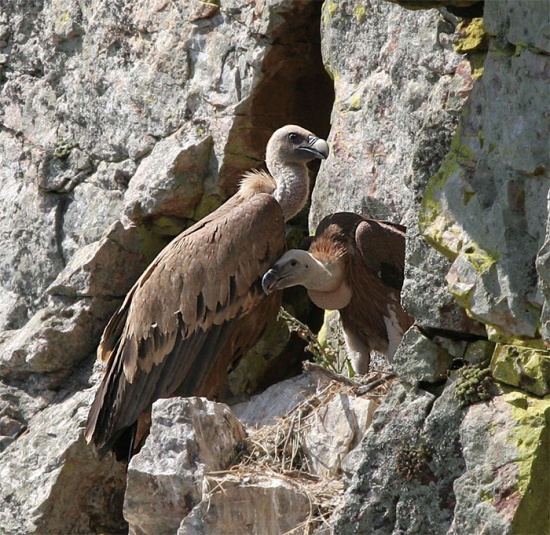 Gyps fulvus
Identification
95-110 cm (37½-43¼ in) long; wingspan 230-265 cm

White bald head
White neck ruff
Buff body and wing-coverts
Dark flight feathers
Very broad wings with long 'fingers'
Short tail
Yellow bill contrast
Distribution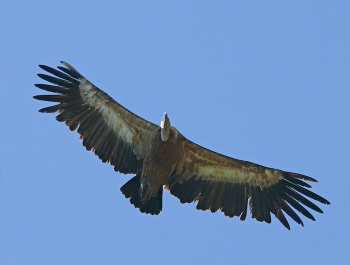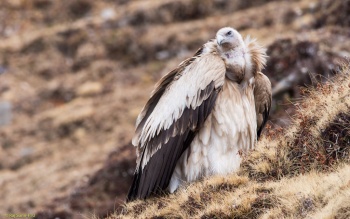 Eurasia and North Africa. Formerly far more widespread in Europe, today found mainly around the Mediterranean and Black Seas, but still declining everywhere except Spain. The bulk of the Western Palearctic population breeds in Spain and occurs over most of the country except the north-west corner and most of the Mediterranean coast. It is now rare in Portugal but is still found in eastern parts close to the Spanish border. In France now confined to the Pyrenees and in the Cevennes where a small population is established as part of a reintroduction programme. Small numbers of non-breeders summer in the Alps and a released pair have bred in Austria.
The species is also found in scattered pockets in Morocco and northern Algeria, in Sardinia and in the former Yugoslavia and Bulgaria. Greece still has a few hundred pairs mainly in mountainous areas and on the island of Crete. Also found throughout much of Turkey and in scattered pockets in Syria and Israel. Very small numbers survive in the Crimea and the Caucasus and less than fifty are now present on Cyprus. Range extends eastwards from northern Iran to Central Asia and south to the Himalayas and north-west India.
Most adults are resident but immatures may wander or move southwards in autumn. Small numbers are regular at Gibraltar in July-November and the Bosphorus in September-October, with a return movement in April-May. Some birds, mainly immatures, winter as far south as Senegal and Gambia. Wandering birds have occurred in various European countries north to Ireland, Scandinavia, Poland and Germany but vagrancy is now much less frequent. However, with increasing protection and reintroductions underway this trend may be reversed and there have been recent records in Belgium and the Netherlands (including flocks of eighteen in July 2001 and fifteen in May 2002), Sweden and Finland and, in August 2000 one was present in the Channel Islands.
The record of two birds in Derbyshire, England, in 1927 is now rejected and the species is no longer on the British List.
Taxonomy
Subspecies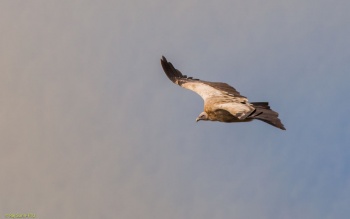 Subspecies: Two races are recognised[1]:
Habitat
It is found in mountainous and open country where thermals occur. Requires carrion from livestock or herds of wild ungulates.
Behaviour
Diet
Like other vultures it is a scavenger, feeding mostly from carcasses of dead animals which it finds by soaring over open areas, often moving in flocks.
Breeding
Nests colonially on cliff ledges.
Vocalisation
It grunts and hisses at roosts or when feeding on carrion.

References
Clements, J. F., T. S. Schulenberg, M. J. Iliff, D. Roberson, T. A. Fredericks, B. L. Sullivan, and C. L. Wood. 2016. The eBird/Clements checklist of birds of the world: v2016, with updates to August 2016. Downloaded from http://www.birds.cornell.edu/clementschecklist/download/
Wikipedia
Collins Bird Guide ISBN 0 00 219728 6
Recommended Citation
External Links
Search the Gallery using the scientific name:

This link searches for pictures titled Eurasian Griffon:

This link searches for pictures titled Griffon Vulture:

Search the Gallery for videos of Eurasian Griffon:
GSearch checked for 2020 platform.