Pterocles alchata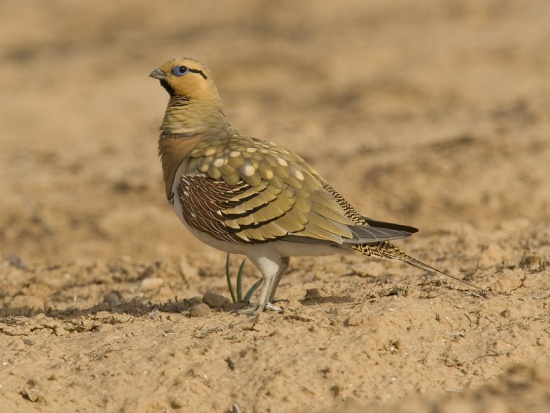 Identification
31–39 cm long. Head and upperparts yellowish-green, underparts white with a chestnut breast band, green neck. Sexes are similar, but the female is shorter tailed than the male.
Distribution
Iberia and southern France, northwest Africa, southeast Turkey east to Kazakhstan.
Taxonomy
Pterocles alchata has two subspecies:[1]
Habitat
Dry open treeless plains and similar habitats.
Behaviour
Its nest is a ground scrape into which 2 or 3 creamy eggs are laid. Both sexes incubate.
Flocks fly to watering holes at dawn. The call is a loud gatar-gatar.
References
Clements, JF. 2009. The Clements Checklist of Birds of the World. 6th ed., with updates to December 2009. Ithaca: Cornell Univ. Press. ISBN 978-0801445019.
Recommended Citation
External Links
Search the Gallery using the scientific name:
Search the Gallery using the common name:
GSearch checked for 2020 platform.