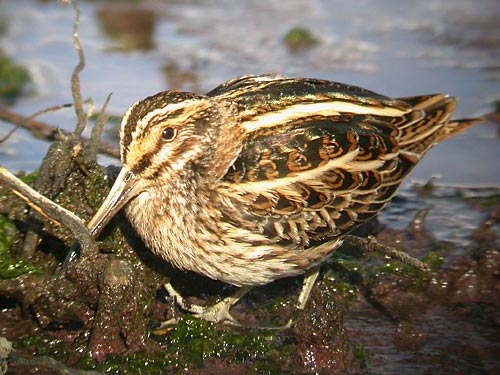 Lymnocryptes minimus
Identification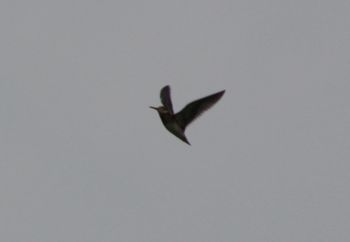 Mottled brown upperparts, paler underneath
Dark stripe through the eye
Wings pointed and narrow
Yellow back stripes visible in flight
Habit of bobbing up and down even when otherwise standing still
Similar Species
Jack Snipe lacks the pale central crown stripe seen in for example Common Snipe which is larger and has a longer bill
Distribution
Breeds from coastal Europe (Atlantic coast - UK and Scandinavia; Mediterranean coast) to Siberia; winters to tropical Africa, India and South-east Asia.
Taxonomy
This is a monotypic species[1].
Habitat
Marshes, bogs, tundra and wet meadows with short vegetation.
Behaviour
Inclined to 'sit tight' only being flushed at the last minute
Breeding
They nest in a well-hidden location on the ground, laying 3-4 eggs.
Diet
These birds forage in soft mud, probing or picking up food by sight. Diet includes insects and earthworms, also plant material.
Vocalisation
References
Clements, J. F., T. S. Schulenberg, M. J. Iliff, S. M. Billerman, T. A. Fredericks, B. L. Sullivan, and C. L. Wood. 2019. The eBird/Clements Checklist of Birds of the World: v2019. Downloaded from http://www.birds.cornell.edu/clementschecklist/download/
Recommended Citation
External Links
GSearch checked for 2020 platform.