Alternative names: Common Scops-Owl; European Scops-Owl
Otus scops
Identification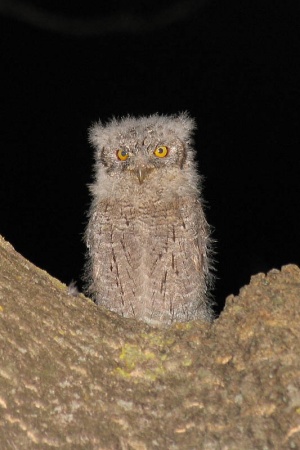 16–20 cm (6¼-7¾ in)
Small, eared owl with yellow eyes.
Plumage is a grey-buff intricately marked with black, which provides excellent camouflage against tree bark when roosting.
Young birds are more strongly vermiculated than adults.
Distribution
Southern Europe, parts of North Africa, Asia Minor east to Central Asia. Many populations migratory, moving to Africa south of Sahara in winter.
Taxonomy
Originally formed superspecies with Oriental Scops Owl and African Scops Owl but is vocally and genetically distinct. Cyprus Scops Owl was recently split from Eurasian Scops Owl.
Subspecies
Five subspecies are recognized[1]:
Volga River to Lake Baikal and south to Altai and Tien Shan Mountains
Subspecies cycladum may be included in nominate form.
Habitat
Open or semi-open woodland, parks, plantations etc. Winters on savannah. Usually not conifers except in parts of Russian range.
Behaviour
Breeding
Nests in tree-holes and in cavities in rocks and walls.
Diet
Mainly insects and other invertebrates but also small lizards, frogs and small mammals.
Vocalisation
References
Clements, J. F., T. S. Schulenberg, M. J. Iliff, S. M. Billerman, T. A. Fredericks, J. A. Gerbracht, D. Lepage, B. L. Sullivan, and C. L. Wood. 2021. The eBird/Clements checklist of Birds of the World: v2021. Downloaded from https://www.birds.cornell.edu/clementschecklist/download/
Gill, F and D Donsker (Eds). 2016. IOC World Bird Names (version 6.3). Available at http://www.worldbirdnames.org/.
Recommended Citation
External Links
GSearch checked for 2020 platform.1