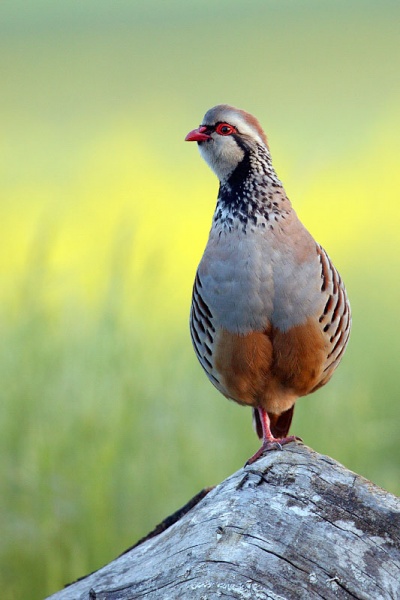 Alectoris rufa
Identification
34–38 cm (13¼-15 in)
Light brown back
Grey breast
Buff belly
White face
Black gorget
Rufous-streaked flanks
Red legs
Distribution
Europe: found in France, Iberia and Italy.
Introduced to many countries, including Britain and New Zealand.
Taxonomy
Subspecies
There are 3 subspecies[1]:
North and west Iberian Peninsula
Habitat
Varied habitat, from farmland to moorland.
Behaviour
Breeding
They nest on the ground. The clutch consists of 10-16 smooth, glossy, yellowish-white eggs with reddish-buff or greyish markings, which are incubated for 23-25 days.
Diet
Their diet consists of roots, grain and shoots of grass and cereals, berries. They also take insects (including their eggs).
Vocalisation
Call: ka-chu-chu.
References
Clements, J. F., T. S. Schulenberg, M. J. Iliff, D. Roberson, T. A. Fredericks, B. L. Sullivan, and C. L. Wood. 2016. The eBird/Clements checklist of birds of the world: v2016, with updates to August 2016. Downloaded from http://www.birds.cornell.edu/clementschecklist/download/
Handbook of the Birds of the World Alive (retrieved September 2016)
Wikipedia
Recommended Citation
External Links
Search the Gallery using the scientific name:
Search the Gallery using the common name:
GSearch checked for 2020 platform.