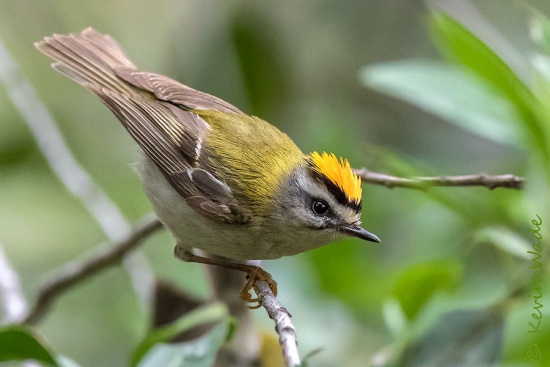 Regulus ignicapilla
Regulus ignicapillus

Identification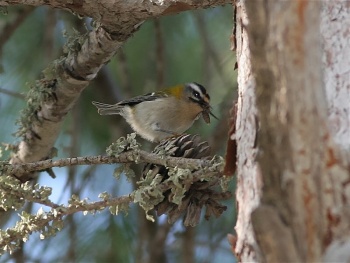 Length 9 cm (3½ in), weight 5-7 g

Red (male) or orange-red (female) crown with black borders
Gold forehead
White supercilium
Black eye-stripe
Bronzy patch on shoulder
Bright olive-grey back
Whitish underparts
Juvenile similar to adults but without the red crown or black crown border.
Similar Species
Goldcrest lacks the black and white head pattern, and is duller green above, less white below.
Distribution
Patchy and discontinuous range in Europe breeding from Brittany, east across Europe, north to southern England and southern Denmark, to about 30 degrees east in Ukraine.
In the south breeds in the northern half of Iberia and south of Spain, central and southern France, Italy and parts of the Balkans and Greece, and locally around the Black Sea in parts of northern Turkey and the Caucasus.
Also breeds on Mallorca, Corsica, Sardinia, Sicily, Crete, and locally in northwest Africa.
Very small numbers breed in Britain, mainly in southern England and the New Forest in particular; elsewhere in Britain a scarce passage migrant, particularly on the east coast.
Northern and eastern populations are migratory wintering in western Europe and around the Mediterranean, birds from remainder of range are largely resident.
Recorded as a vagrant in Finland.
Taxonomy
Madeira Firecrest Regulus madeirensis has recently been split as a separate species.
Subspecies
There are two to four subspeces[1][2][3]:
R. i. caucasicus: brighter, with golden neck patch (not considered distinct by some authorities[1])
R. i. tauricus: duller and darker (not considered distinct by some authorities[1])
R. i. balearicus: has greyer plumage
Habitat
Breeds in deciduous, mixed and coniferous forest, also evergreen oak and tree-heath around the Mediterranean. Generally lower to the ground than Goldcrest, often in scrub, thickets and swampy areas.
Behaviour
Similar to Goldcrest, but tends to be a little more mobile, moving faster through shrubs and trees when feeding.
Flight
Undulating flight. Often hovers when feeding in the tree canopy.
Diet
The diet consists mainly of small insects and spiders.
Breeding
The nest is suspended under a conifer or other evergreen branch.
Vocalisation
Slightly lower pitched than Goldcrest, with a sharper, more incisive sound to some ears. Song lacks the high, pulsating quality that Goldcrest has.
References
Clements, J. F., T. S. Schulenberg, M. J. Iliff, S. M. Billerman, T. A. Fredericks, J. A. Gerbracht, D. Lepage, B. L. Sullivan, and C. L. Wood. 2021. The eBird/Clements checklist of Birds of the World: v2021. Downloaded from https://www.birds.cornell.edu/clementschecklist/download/
Gill, F, D Donsker, and P Rasmussen (Eds). 2021. IOC World Bird List (v 11.2). Doi 10.14344/IOC.ML.11.2. http://www.worldbirdnames.org/
Del Hoyo, J, A Elliot, and D Christie, eds. 2006. Handbook of the Birds of the World. Volume 11: Old World Flycatchers to Old World Warblers. Barcelona: Lynx Edicions. ISBN 978-8496553064
Collins Field Guide 5th Edition ISBN 0 00 219900 9
Recommended Citation
External Links
GSearch checked for 2020 platform.1