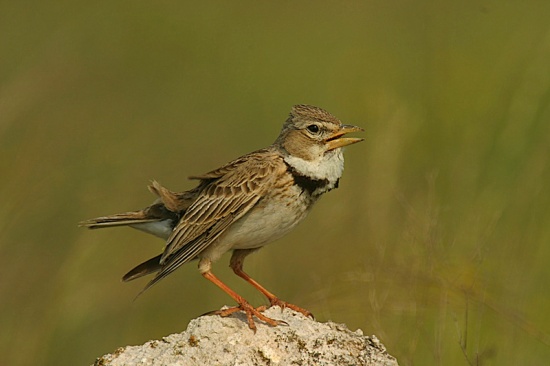 Melanocorypha calandra
Identification
17.5–20 cm long

Streaked grey brown upperparts
White underparts
Large black patches on breast sides
White supercilium
Short broad wings, dark below
Short white-edged tail
Yellowish-brown bill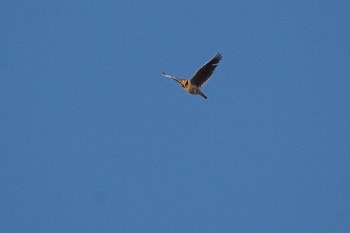 Distribution
Europe, Africa, Middle East and Asia
Eastern Europe: Scandinavia, Norway, Finland, Faroe Islands, France, Portugal, Spain, Italy, Sicily, Sardinia, Hungary, Slovenia, Croatia, Yugoslavia, Serbia, Montenegro, Albania, Macedonia, Greece, Crete, Malta, Bulgaria, Romania, Ukraine, Moldova
Northern Africa: Morocco, Algeria, Tunisia, Libya, Egypt
Middle East: Turkey, Cyprus, Syria, Lebanon, Israel, Jordan, Arabian Peninsula, Iraq, Iran, Armenia, Azerbaijan, Georgia
Asia: Russia, Siberia, Kazakhstan, Uzbekistan, Turkmenistan, Tajikistan, Afghanistan, Mongolia
Taxonomy
Subspecies
There are 4 subspecies[1]:
Habitat
Steppe and open cultivation, dry open country, grassland, farmland.
Behaviour
May form sizeable winter flocks.
Movement
Walks or runs. Flight similar to Eurasian Skylark but more bouncy.
Breeding
It nests on the ground. The clutch consists of 4–5 eggs.
Diet
The diet includes seeds supplemented with insects in the breeding season.
Vocalisation
Song: reminiscent of Skylark, but more melodic.
Call: varied. schreeep, treeh or trip, trip.
References
Clements, J. F., T. S. Schulenberg, M. J. Iliff, D. Roberson, T. A. Fredericks, B. L. Sullivan, and C. L. Wood. 2018. The eBird/Clements checklist of birds of the world: v2018. Downloaded from http://www.birds.cornell.edu/clementschecklist/download/
Avibase
Collins Bird Guide ISBN 0 00 219728
Collins Field Guide 5th Edition ISBN 0 00 219900 9
Recommended Citation
External Links
GSearch checked for 2020 platform.