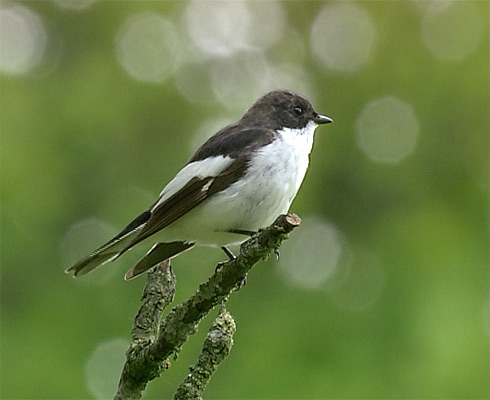 Ficedula hypoleuca
Identification
12-13 cm

Large white wing patches
White Underparts
White outer tail feathers
Breeding Male
Black upperparts
White forehead
Adult Female: olive-brown above and lacks white forehead
Confusion Species
Collared Flycatcher, Semicollared Flycatcher, Atlas Flycatcher.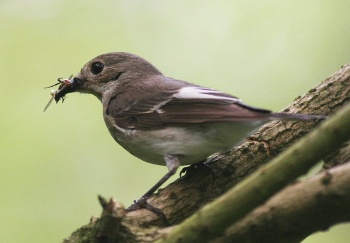 Distribution
The most widespread and numerous of the three "pied" flycatchers of the Region. Breeds throughout most of Scandinavia and in mainland Europe from the Netherlands, Belgium and eastern France east to the Urals. Also breeds in parts of north and west Britain, at scattered sites in central and southern France, in central Iberia and in North-West Africa.
Migratory, leaving breeding areas in mid August-September to winter in West Africa and returns in mid April-June. Passage birds occur throughout most of Europe, the Middle East and North Africa. Occasional winter records from around the Mediterranean.
Vagrants recorded north to Svalbard, Iceland and Faroes, also Madeira and the Cape Verde Islands.
Taxonomy
Subspecies
Three to four subspecies usually recognized[1]:
F. h. iberiae: male has slightly larger white forehead patch
Iberian Peninsula; winters in west Africa (not accepted by all authorities)
F. h. sibirica (syn. tomensis): usually greyer than nominate but grey or brown individuals also occur commonly in Europe. [2]
Atlas Flycatcher has formerly been considered a subspecies of this species.
Habitat
Preferred habitat is mature deciduous woodland, especially oak, but also found in mixed and coniferous woodland in upland areas in south of range. Occurs in orchards and parks, sometimes large gardens and often in areas of scrub on passage.
Behaviour
Breeding
They nest in a tree hole; 4-10 eggs are laid. They readily take to nest boxes.
Diet
The diet includes insects which are aerially hawked.
Vocalisation
References
Clements, J. F., T. S. Schulenberg, M. J. Iliff, D. Roberson, T. A. Fredericks, B. L. Sullivan, and C. L. Wood. 2014. The eBird/Clements checklist of birds of the world: Version 6.9., with updates to August 2014. Downloaded from http://www.birds.cornell.edu/clementschecklist/download/
Avibase
Collins Pocket Guide to British Birds 1966
Wikipedia
Recommended Citation
External Links
GSearch checked for 2020 platform.1