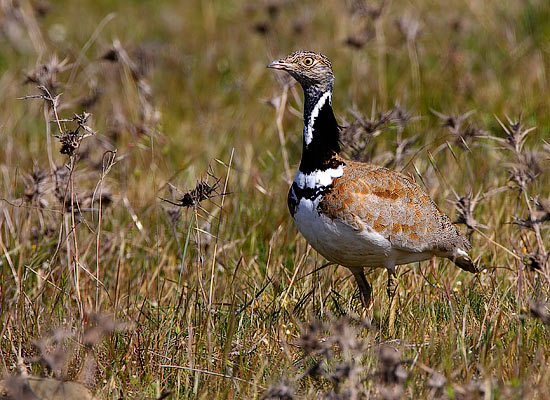 Tetrax tetrax
Identification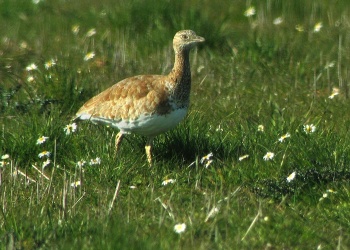 Male 40–45 cm (15¾-17¾); Female 40–43 cm (15¾-17 in)

Small head on long neck
Long legged
Brown above and white below

Breeding Male
Grey face
Black neck with white "V" below throat
White band on upper breast

Female is marked darker below than the male
Immature birds resemble females.
Distribution
Europe, Africa and Asia. Western Europe: France, Portugal, Spain, Switzerland, Austria, Italy, Latvia, Belarus, Poland, Slovakia, Albania,Bulgaria, Ukraine
Northern Africa: Morocco, Algeria, Libya, Moldova
Middle East: Turkey, Syria, Israel, Iran, Armenia, Azerbaijan, Georgia
Asia: Russia, Kazakhstan, Uzbekistan, Turkmenistan, Kyrgyzstan, Tajikistan, Afghanistan, China
South Asia; Pakistan
Taxonomy
This is a monotypic species[1].
Habitat
Open grassland.
Behaviour
Diet
Their varied diet consists of beetles, grasshoppers and some invertebrates. They also eat vegetable matter such as shoots, leaves, flowers and seeds.
Breeding
Their clutch contains 2 to 6 eggs in a ground scrape. Incubation takes 20-22 days.
Vocalisation
References
Clements, J. F., T. S. Schulenberg, M. J. Iliff, D. Roberson, T. A. Fredericks, B. L. Sullivan, and C. L. Wood. 2018. The eBird/Clements checklist of birds of the world: v2018. Downloaded from http://www.birds.cornell.edu/clementschecklist/download/
Handbook of the Birds of the World Alive (retrieved June 2019)
Collins Field Guide 5th Edition
Recommended Citation
External Links
GSearch checked for 2020 platform.1