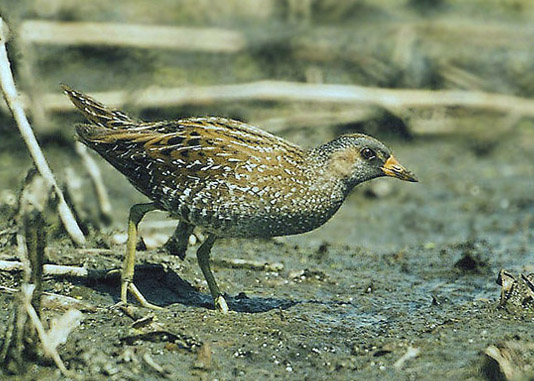 Porzana porzana
Identification
22–24 cm (8½-9½ in)
Mottled brown upperparts
Bluish-grey face underparts with brown bars and white spots
Greyish face and crown
White spots on chest
White fore-edge on wing
Short bill with red base and yellow tip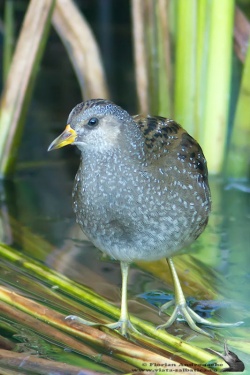 Buff patch under tail
Green legs
Distribution
Breeds throughout the Palearctic region; winters Mediterranean areas to southern Africa and South-east Asia.
Taxonomy
This is a monotypic species[1].
Habitat
Freshwater wetlands with shallow water and dense vegetation.
Behaviour
Flight
Short distances of fluttery flight action.
Diet
The diet includes aquatic invertebrates, insects, snails, worms, small fish and plant materials.
Breeding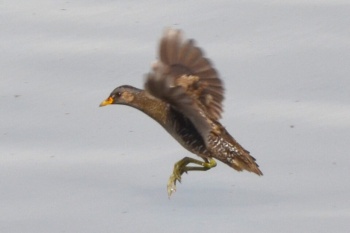 They nest in a dry location in marsh vegetation, laying 6-15 eggs.They are Monogamous during the breeding season and very territorial.
Vocalisation
References
Clements, J. F., T. S. Schulenberg, M. J. Iliff, D. Roberson, T. A. Fredericks, B. L. Sullivan, and C. L. Wood. 2017. The eBird/Clements checklist of birds of the world: v2017, with updates to August 2017. Downloaded from http://www.birds.cornell.edu/clementschecklist/download/
Handbook of the Birds of the World Alive (retrieved March 2016)
RSPB Bird guide
Birdwatchers Pocket Guide ISBN 1-85732-804-3
Recommended Citation
External Links
Search the Gallery using the scientific name:
Search the Gallery using the common name:
GSearch checked for 2020 platform.