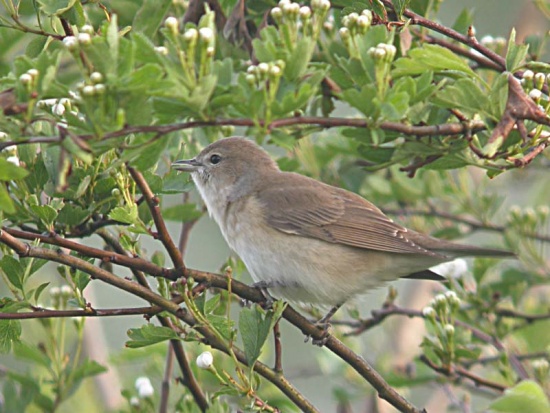 Sylvia borin
Identification
13-14.5 cm (5-5¾ in)
A plump warbler with round head and stubby bill. Rather featureless plumage with uniform olive brown-grey upperparts and paler underparts.
Distribution
Breeds virtually throughout Europe, wintering to tropical Africa.
Taxonomy
Subspecies
There are 2 subspecies[1]:
S. b. woodwardi (pallida):
Habitat
Woods, gardens and heaths with plenty of brambly undergrowth.
Behaviour
Each fall, this tiny bird sets out in the night, to begin its incredible journey. It makes its way over Germany, France and Spain, then turns southward to Africa, its final destination. Covering one hundred miles or more in one night, the warbler flies without error, guided toward its goal by keen navigational instincts. Even when blown out of its way by powerful side-winds, it is able to set itself back on course as soon as the weather has calmed. After wintering in Africa, the bird retraces is path back north, to its former nesting place in a European thicket. There it raises another generation of little warblers which will grow up, untaught, but completely able to fly over the same route their parents took, guided by the stars.
The garden warbler does not have the security of a flock, but travels alone.
Diet
Their diet consists mosty of insects, with the addition of some fruits and berries during the breeding season.
Breeding
Nests low in low bushes.
Vocalisation
Recording by Andrew Whitehouse
Girdleness, Aberdeen, May 2016
References
Clements, J. F., T. S. Schulenberg, M. J. Iliff, D. Roberson, T. A. Fredericks, B. L. Sullivan, and C. L. Wood. 2015. The eBird/Clements checklist of birds of the world: v2015, with updates to August 2015. Downloaded from http://www.birds.cornell.edu/clementschecklist/download/
Collins Pocket Guide to British Birds 1966
Collins Field Guide 5th Edition
Collins Bird Guide ISBN 0 00 219728 6
Handbook of the Birds of the World Alive (retrieved April 2016)
Recommended Citation
External Links
GSearch checked for 2020 platform.1