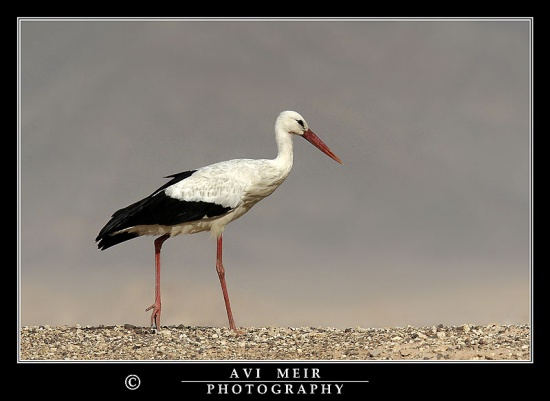 Alternative name: European White Stork
Ciconia ciconia
Identification
100-125 cm (39-49")

Mainly white
Black flight feathers
Long red bill and legs (duller on juveniles)
Males average slightly larger than females.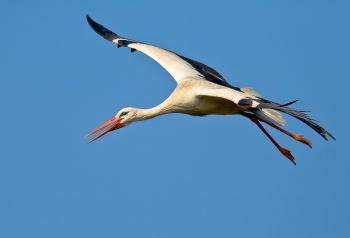 Similar Species
The Oriental Stork (Ciconia boyciana) of the Russian Far East and China is similar, but decidedly larger, with darker bill and red (not black) orbital. It also has less black on its secondaries. Maguari Stork (Ciconia maguari) of South America has a dark bill and red facial skin.
Distribution
Europe (north to Estonia), northwest Africa, and southwest Asia (east to southern Kazakhstan).
It winters mainly in tropical Africa, down to the south of South Africa, and also in the Indian subcontinent. A good proportion of European storks winter in Spain.
Taxonomy
Formerly included with the Oriental Stork (Ciconia boyciana)
Subspecies
There are two subspecies.[1]
C. c. asiatica: Slightly larger with heavier bill.
Habitat
Open farmland areas with access to marshy wetlands.
Behaviour
Flight
Feet and neck extended when flying.
Breeding
They build a stick nest in trees, on buildings, or special platforms, in loose colonies.
Diet
The diet includes frogs, large insects, young birds, lizards and rodents.
Vocalisation
Not a very vocal bird, but claps the bill, especially on approach of partner or intruder.
References
Clements, J. F., T. S. Schulenberg, M. J. Iliff, D. Roberson, T. A. Fredericks, B. L. Sullivan, and C. L. Wood. 2018. The eBird/Clements checklist of birds of the world: v2018. Downloaded from http://www.birds.cornell.edu/clementschecklist/download/
Wikipedia contributors. (2018, August 5). White stork. In Wikipedia, The Free Encyclopedia. Retrieved August 22, 2018, from https://en.wikipedia.org/w/index.php?title=White_stork&oldid=853490809
Elliott, A., Garcia, E.F.J. & Boesman, P. (2018). White Stork (Ciconia ciconia). In: del Hoyo, J., Elliott, A., Sargatal, J., Christie, D.A. & de Juana, E. (eds.). Handbook of the Birds of the World Alive. Lynx Edicions, Barcelona. (retrieved from https://www.hbw.com/node/52744 on 23 August 2018).
Recommended Citation
External Links
GSearch checked for 2020 platform.1