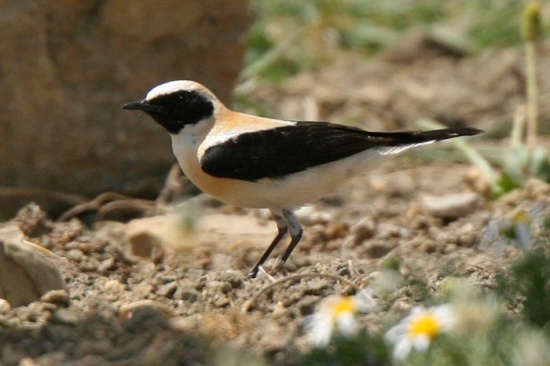 Oenanthe hispanica
Identification
13.5-15.5 cm (5¼-6 in).
Male - white forehead and crown, buff mantle, black wings, underparts are white tinged with buff, white back, upper tail coverts and tail, black ear coverts, black line from the bill, sometimes black throat.
In autumn and winter the head and mantle are distinctly buff, as are the underparts, including the throat, but the buff varies in intensity.
Female - browner bird, and her seasonal changes are less marked. Can show a dark chin and face in autumn.
Variations
Males come in two colour morphs - pale throated and black throated, with pale throated the commoner.
Similar species
Males of Eastern Black-eared Wheatear (as seen in Cyprus, for example) are much paler above than the western form. They can look almost black and white in strong sunlight, with just a pale sandy brown colouration.
Identification of younger birds of this species versus Pied Wheatear is discussed in a [thread] in the Identification forum.
Distribution
This species is found from south-western Europe and northern Africa to Senegal and Mali.

Taxonomy
This is a monotypic species[1].
Previously joined with Eastern Black-eared Wheatear under the name of Black-eared Wheatear.
Habitat
Stony mountainous slopes, usually below 600 m; open countryside, maybe with a few trees.
Behaviour
Diet
The diet includes insects.
Breeding
Nests in holes among rocks and walls, or under tussocks of grass.
References
Clements, J. F., T. S. Schulenberg, M. J. Iliff, S. M. Billerman, T. A. Fredericks, J. A. Gerbracht, D. Lepage, B. L. Sullivan, and C. L. Wood. 2021. The eBird/Clements checklist of Birds of the World: v2021. Downloaded from https://www.birds.cornell.edu/clementschecklist/download/
Collins Field Guide 5th Edition
Grant, P.J., K. Mullarney, L. Svensson, D. Zetterstrom (1999) Collins Bird Guide: The Most Complete Field Guide to the Birds of Britain and Europe. Harpercollins Pub Ltd ISBN 0 00 219728 6
Recommended Citation
External Links
GSearch checked for 2020 platform.