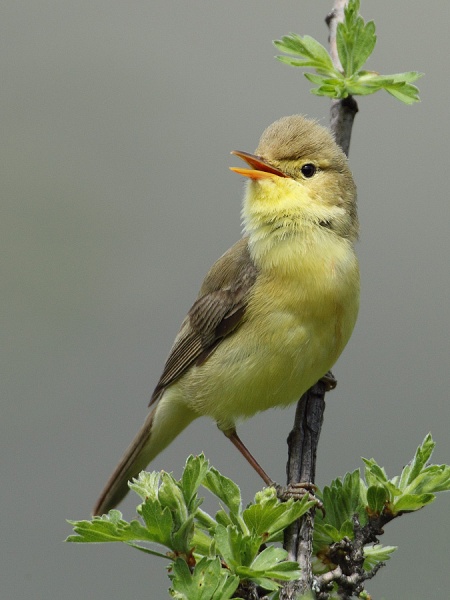 Hippolais polyglotta
Identification
12–13·5 cm (4¾-5¼ in)
Plain brown back and wings
Yellowish underparts
Strong and pointed bill
Brown legs
Sexes similar
Distribution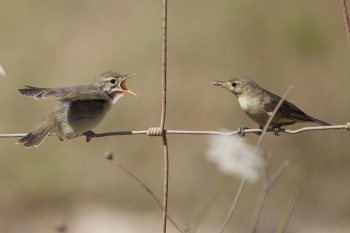 Southwest Europe and northwest Africa.
Breeds in the western Mediterranean in Morocco, Algeria, Tunisia, France, Spain, Portugal,Italy, Slovenia and Croatia. It is expanding its breeding range northwards and has recently bred in Switzerland, Belgium, Netherlands, Luxembourg, Germany and Poland.
Winters in West Africa from the Gambia east to Nigeria and Cameroon.
It is a scarce passage migrant to the United Kingdom and Ireland and is accidental in Scandinavia and Greece.
Taxonomy
This is a monotypic species[1].
Habitat
Open woodland with bushes. Orchards, large unkempt gardens, oak scrub and dense thorny thickets.
Behaviour
Diet
Their diet consists mostly of insects and invertebrates, with the addition of some summer fruit and berries. They feed caterpillars to the nestlings.
Breeding
The clutch contains 3-5 eggs. The cup nest is constructed from grass, plant stems and soft twigs and is placed in a tree or a bush.
Vocalisation
The song is a pleasant babbling

References
Clements, J. F., T. S. Schulenberg, M. J. Iliff, S. M. Billerman, T. A. Fredericks, B. L. Sullivan, and C. L. Wood. 2019. The eBird/Clements Checklist of Birds of the World: v2019. Downloaded from http://www.birds.cornell.edu/clementschecklist/download/
Svensson, L. & Christie, D.A. (2019). Melodious Warbler (Hippolais polyglotta). In: del Hoyo, J., Elliott, A., Sargatal, J., Christie, D.A. & de Juana, E. (eds.). Handbook of the Birds of the World Alive. Lynx Edicions, Barcelona. (retrieved from https://www.hbw.com/node/58835 on 9 August 2019).
Recommended Citation
External Links
GSearch checked for 2020 platform.1