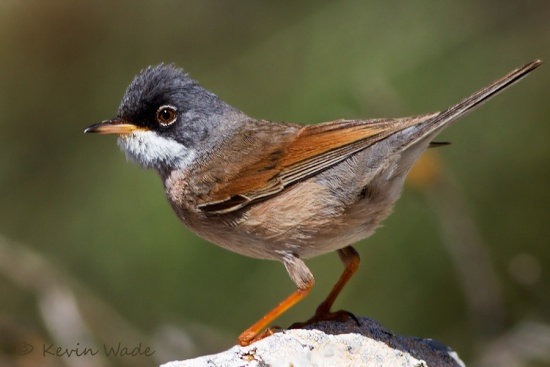 Curruca conspicillata
Sylvia conspicillata
Identification
12cm (4¾ in)
Brown upperparts
Buff underparts
Chestnut wing patches
White throat

Orangish legs
Adult male: grey head with black lores and white eye ring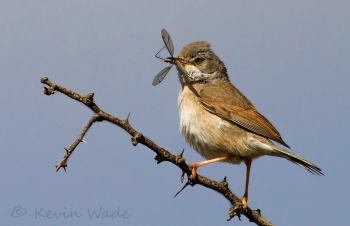 Distribution
Europe, Africa and the Middle East
Europe: France, Corsica, Portugal, Madeira, Spain, Ibiza, Mallorca, Canary Islands, Gran Canaria, Gomera, Tenerife, Extremadura, Gibraltar, Italy, Sicily, Sardinia, Yugoslavia, Albania, Crete, Malta
Northern Africa: Morocco, Algeria, Tunisia, Libya, Egypt
Western Africa: Mauritania, Senegambia, Senegal, Niger
African Islands: Cape Verde
Middle East: Turkey, Cyprus, Syria, Lebanon, Israel, Jordan, Arabian Peninsula, Iraq
Taxonomy
This is a polytypic species[1] consisting of 2 subspecies.
Subspecies
Two additional subspecies, extratipica and bella are generally considered invalid[2].
Habitat
Desert and coastal scrub, open grassy country with scattered trees, gardens.
Behaviour
Breeding
The nest is hidden in a bush. The clutch consists of 3-6 eggs.
Diet
The diet includes insects.
References
Clements, J. F., T. S. Schulenberg, M. J. Iliff, S. M. Billerman, T. A. Fredericks, J. A. Gerbracht, D. Lepage, B. L. Sullivan, and C. L. Wood. 2021. The eBird/Clements checklist of Birds of the World: v2021. Downloaded from https://www.birds.cornell.edu/clementschecklist/download/
Avibase
Wikipedia
Recommended Citation
External Links
GSearch checked for 2020 platform.1