Ciconia nigra
Identification
Length 95-110 cm (37½-4¼ in), mass 2.2-3.2 kg.
Head, neck, upper breast and upperparts black; lower breast and belly white. The bill, bare skin around the eye, legs and feet are red.
Distribution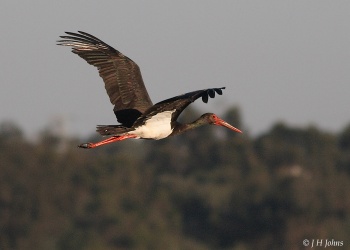 Breeds from Western Europe to north-eastern China and Japan; there is also an isolated population that breeds in southern Africa (eastern Zambia to South Africa).
Birds breeding in Eurasia winter in tropical Africa and northern India to eastern China.
Taxonomy
This is a monotypic species[1].
Habitat
Almost always found in close proximity to fresh water; marshy areas and meadows with mixed forest for breeding.
Behaviour
A solitary bird that feeds in shallow water or on short grass.
Breeding
They build a stick nest high in a tree.
Diet
Their diet consists mainly of frogs, toads and fish.
Vocalisation
References
Clements, J. F., T. S. Schulenberg, M. J. Iliff, D. Roberson, T. A. Fredericks, B. L. Sullivan, and C. L. Wood. 2018. The eBird/Clements checklist of birds of the world: v2018. Downloaded from http://www.birds.cornell.edu/clementschecklist/download/
Collins Bird Guide ISBN 0 00 219728 6
Recommended Citation
External Links
Search the Gallery using the scientific name:
Search the Gallery using the common name:
GSearch checked for 2020 platform.