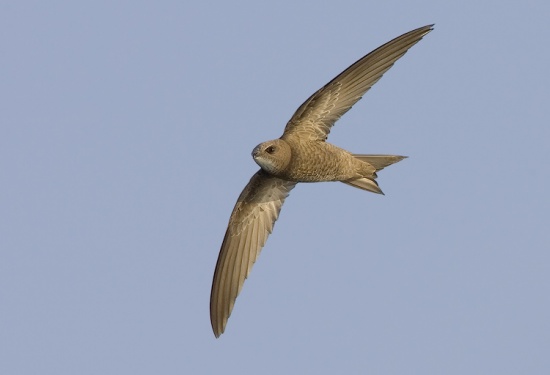 Apus pallidus
Identification
16 (6¼ in).

Basically a brown bird with a greyish forehead and dark eye patch
Larger white throat patch than Common Swift
Head and neck broad
Tail is short and forked
Long swept back wings

Outer primaries darker contrasting with inner primaries
Similar Species
Very similar to Common Swift (see references).
Distribution
Mainly around the Mediterranean, the Arabian Peninsula and northern Africa.
In Europe occurs in Portugal (including Madeira), Spain (including the Balearics and the Canary Islands), southernmost France (including Corsica), Italy (including Sardinia and Sicily), the Dalmatian Coast, Bulgaria, Greece and Cyprus. A small colony also in southern Switzerland.
In Africa found in Morocco, Algeria, Tunisia, Libya, Egypt and in some oasis in the Sahara.
Winters south of the Sahara from Senegal to Ethiopia.
In Asia found in Turkey, the Middle East, the Arabian Peninsula, the Iranian Coast and in southern Pakistan.
Vagrants recorded in Britain (80 up to 2012, but only detected since 1977 when identification criteria became better known), in spring and October-November, mainly on the southern and eastern coasts of England but also north to Shetland. Elsewhere, recorded in Ireland, Belgium and the Netherlands, Germany and Denmark, Hungary, Estonia and Norway.
Taxonomy
Subspecies
There are 3 subspecies, which only differ minimally and are very difficult to distinguish[1]:
Nominate A. p. pallidus is found from inland North Africa; Mauritania (Banc d'Arguin), the Sahara, and Egypt, the Middle East to Iran and Pakistan is pale greyish-brown with extensive white throat.

A. p. brehmorum in most of the species' range, from Madeira to the Canary Islands, Cyprus and Turkey including coastal North Africa is slightly darker and browner with a reduced throat patch.

The darkest subspecies is A. p. illyricus from around the Dalmatian coast of Adriatic Sea (and possibly elsewhere in the Balkans); winters in Sahel.
Subspecies illyricus has occurred in Denmark as a vagrant. The first Scottish record, in Orkney in 1996, appeared to belong to subspecies brehmorum, which is the most likely subspecies in Britain.
Habitat
Usually more coastal than Common Swift but also in river valleys, and in Bulgaria, up to 2800 m altitude in the Rila Mountains.
Behaviour
Diet
Feeds over open country and towns, breeds in crevices in buildings or cliffs. It migrates much earlier than Common Swift, usually arriving on the breeding grounds in March, sometimes February (some African populations are non-migratory), and also departs later in the autumn, typically October or early November.
Breeding
Unlike the Common Swift, it is usually double-brooded. Nests with second-brood young in alpine chalets above 2500 m in Bulgaria can fledge as late as late October, by which time substantial early winter snowfall has occurred.
Vocalisation
The 'screaming' call is distinctly slower and lower-pitched than the similar call of the Common Swift, and can be a useful detection character in mixed flocks.
References
Clements, J. F., T. S. Schulenberg, M. J. Iliff, D. Roberson, T. A. Fredericks, B. L. Sullivan, and C. L. Wood. 2018. The eBird/Clements checklist of birds of the world: v2018. Downloaded from http://www.birds.cornell.edu/clementschecklist/download/
Birdforum thread discussing ID of Common and Pallid Swifts
and another Birdforum thread with some amazing photos of both
Wikipedia
Recommended Citation
External Links
Search the Gallery using the scientific name:
Search the Gallery using the common name:
GSearch checked for 2020 platform.