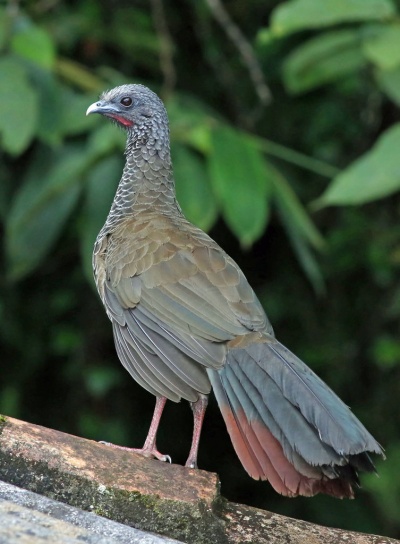 Overview
With 1,931 species, Colombia is the world's most bird-rich nation. It also boosts 76 endemics and 109 near-endemics of the 1,931 species recorded. So why is this not the Mecca of the birding world? Since the 1960s a narco-guerrilla war across Colombia has deterred all visitors and given Colombia a bad reputation. However, for the past decade Colombians voted in hard line politicians that have turned the country around and largely destroyed the guerrilla, pushing them back into the most remote areas (like what Peru did in the 1990s). Recent years has seen a large resurgence of birders safely visiting sites across Colombia, with over 20 national and international birding companies [1] leading the way.
Colombia has so much to offer, not just spectacular landscapes and more birds than any other country! What is most impressive about Colombia is the people - despite suffering decades of bloody war (the longest running civil conflict in the Americas no less) they are the most friendly people, embracing and welcoming foreigners and visitors. Now is the time to start birding in Colombia.
Despite few foreign birders visiting Colombia, Colombians have been busy birding and build up a long list of birding sites to find rare and endemic birds. Facilities at many sites remain quite rustic and it is not as comfortable as birding in Ecuador, Kenya and other typical tropical birding destinations.
As there is no guide to the birding sites in Colombia, this page will be dedicated to the top "must visit birding sites" with the most Colombian endemic species to help guide first visitors to Colombia. We have asked experienced members of the forum to recommend and detail their top five birding sites in Colombia one should/must visit with the highest number of endemics, but also considering birding facilities, e.g. trails, proximity to hotels/lodges, etc. Based on forum member recommendations, we shall detail the top sites and provide future visitors with extra information.
Birding sites in Colombia:
Based on recommendations from many birders and public contributions from Robert Giles, Avery Bartels and Trevor Ellery, the following five areas are the places to visit to see Colombia's many endemics:
1. El Dorado Bird Reserve and Lodge in the Sierra Nevada de Santa Marta Mountains (21 endemics)
2. Las Tangaras and Colibri del Sol Reserves in Antioquia/Choco (16 endemics)
3. Cerulean Warbler and Pauxi Pauxi Reserve in Santander (12 Endemics)
4. Chestnut-capped Piha Reserve in Antioquia (9 Endemics)
5. Paujil Reserve in Boyaca (6 Endemics)
Secondary areas:
6. Parque La Florida, Bogota: 3 endemics - Bogota Rail, Silvery-throated Spinetail, Apolinar's Wren
7. Monterredondo, Cundinamarca: 2 endemics - Cundinamarca Antpitta and Brown-breasted Parakeet
8. Bahia Solano: one key endemic - Baudo Oropendola
Plus many other great sites with endemics and good facilities, for example: La Suiza Lodge, El Paujil Reserve, Rio Blanco Reserve, Colourful Puffleg Reserve, La Victoria, El Cairo, Fuertes Reserve, La Florida Park, Los Flamencos Sanctuary, Chingaza National Park, etc., with species overlapping at sites above.
El Dorado Bird Reserve and Lodge
Without any doubt, this is the top birding site in Colombia if not the entire tropics - where can you find 22 endemics within a stone's throw of a wonderful birding lodge? This wonderful reserve with great facilities is perched on the Sierra Nevada de Santa Marta Mountains - the highest coastal mountain on earth - the views are unparalleled. Whatsmore, this reserve can easily be combined with visiting Minca (lowland dry to subtropical wet forests) and the north coast of Colombia (Guajira endemics).
Endemic and notable birds 21 endemics (all but one Sierra Nevada endemic Santa Marta Wren), 18 threatened species, 333 bird species, with a birding lodge, trails, hummingbird and antpitta feeders. Endemics that can be seen in the reserve and around the lodge: 1. Santa Marta Parakeet 2. Santa Marta Screech Owl 3. Blossomcrown 4. Black-backed Thornbill 5. White-tailed Starfrontlet 6. Santa Marta Woodstar 7. Santa Marta Sabrewing 8. Rusty-headed Spinetail 9. Streak-capped Spinetail 10. Santa Marta Foliage-gleaner 11. Santa Marta Antpitta 12. Brown-rumped Tapaculo 13. Santa Marta Tapaculo 14. Santa Marta Bush Tyrant 15. Santa Marta Mountain Tanager 16. Colombian Brush Finch 17. Santa Marta Brush Finch 18. Yellow-crowned Whitestart 19. White-lored Warbler 20. Santa Marta Warbler 21. Santa Marta Toucanet. Another Colombian endemic, Chestnut-winged Chachalaca (22), can be found fairly easily near Santa Marta airport.
Access and Facilities Barranquilla Airport - 4 Hours (flights from Miami and Panama City) Santa Marta Airport - 3 Hours. It is possible to take a taxi from either airport or from the City of Santa Marta to the town of Minca. From Minca a 4x4 jeep is needed to the lodge, or, for the more adventurous, a motorcycle. Note that it is no longer possible to visit the lodge grounds unless staying there. They no longer provide corn for the wood quail and so that species can now be less easy to see.
El Dorado Bird Lodge has excellent facilities including:
6 spacious Rooms (4 more under construction) for groups of 16 or more.
Dining Room, Pub and Observation Balcony
Great Food
Small library
Plethora of Hummingbird feeders (4 endemic hummers visiting)
Fruit feeders with great photo opportunities
Antpitta feeding station (attracting SM Antpitta and Colombian Brush Finch)
Compost Heap - especially favoured by Black-fronted Wood Quail and both endemic Brush Finches.
Crab-eating Foxes visiting nightly.
Night Monkeys sometimes visit fruiting tree opposite lodge balcony.
Further information
Birding Colombia website [2]
A video of the reserve [3]
The spectacular view from the lodge video [4]
Las Tangaras and Colibri del Sol Reserves Area
Located along the department boundary of western Antioquia and eastern Choco, these two reserves are 40 miles apart but span the entire western Cordillera and Choco ecosystems, from Paramo to tropical rainforest with all the endemics found here and on route between sites (and on the road from Medellin). The combined total of El Dorado and the Las Tangaras area is 38 endemics no less. Almost half of Colombia's endemic birds!
Endemic and notable birds 17 endemics
1. Antioquia Wren (on route - by Bolombolo) 2. Colombian Chachalaca (on route) 3. Chestnut Wood Quail (Las Tangaras) 3. Yellow-eared Parrot (Las Tangaras and nearby in Jardin) 5. Dusky Starfrontlet (Colibri del Sol) 6. Greyish Piculet (Cauca Valley) 7. Antioquia Antpitta (Colibrí del Sol) 8. Paramillo Tapaculo (Colibrí del Sol) 9. Soon-to-be-described Alto Pisones Tapaculo (Las Tangaras) 10. Apical Flycatcher (on route) 11. Munchique Wood-Wren (Road to Urrao) 12. Black-and-gold Tanager (Las Tangaras) 13. Gold-ringed Tanager (Las Tangaras) 14. Chestnut-bellied Flowerpiercer (Colibri del Sol) 15. Crested Ant-Tanager (Las Tangaras) 16. Red-bellied Grackle (Las Tangaras) 17. Flame-rumped Tanager (Las Tangaras)
Las Tangaras birds: This new reserve is one of the most spectacular birding sites in Colombia. It protects Colombia two endemic Bangsia Tanagers, the Black-and-gold Tanager being particularly abundant, and along the ridges, the Gold-ringed Tanager. Other endemics include Chestnut Wood Quail, the soon-to-be-described Alto Pisones Tapaculo (common), Crested Ant Tanager (fairly common) and Red-bellied Grackle. The Yellow-eared Parrot are seen feeding in the reserve almost daily. Flame-rumped Tanager occurs in the pastures leading up to the reserve. Tangaras is perhaps almost as famous for its large selection of Choco specialties. Such mouthwatering species as Choco Vireo, Orange-breasted Fruiteater, Black Solitaire, Star-chested Treerunner and Purplish-mantled Tanager can all be found fairly commonly and often together in large mixed feeding flocks. Further attractions include great hummer feeders and skulkers such as Olive Finch and Yellow-breasted Antpitta.
Colibri del Sol Reserve birds: may involve some logistical challenges but provides the opportunity to see several key endemics which are not available elsewhere. The newly described Fenwick's Antpitta visit a worm feeding station by the lodge, the spectacular Dusky Starfrontlet is common at feeders on the edge of the Paramo. Paramillo Tapaculo (also newly described) and Chestnut-bellied Flowerpiercer are also frequently found on the Paramo edge. Other highlights could include Rufous-banded Owl and White-throated Screech Owl, Rusty-faced Parrot, White-capped Tanager, Dusky Piha, Black-billed Mountain Toucan, Slate-crowned Antpitta and Chestnut-naped Antpitta, Purple-backed Thornbill and Sword-billed Hummingbird.
Route between reserves: the new Antioquia Wren has been found on the way to Las Tangaras, 5 km before a town called Bolombolo (on a map it looks like it is before the River Cauca bridge). This is also a site for Greyish Piculet and Apical Flycatcher, so three easy Endemics together!
Access and Facilities Las Tangaras: Under 4 hours from Medellin, a new eight-room lodge with reliable hot water, internet, and lovely new restaurant (from photos) has been established in the reserve beside the Medellin to Quibdo highway. The reserve can be accessed by car, but the reserve has a 4x4 jeep to get to the highest part of the reserve.
Facilities at Colibri del Sol: A basic cabin at 2800m provides bunk bed accommodation with space for up to 12 guests. Their is no heating and visitors should expect to take suitable clothing for cold and possibly wet conditions. Blankest are plentiful and all daily meals can be provided plus the help of a Forest Guard. The reserve is accessed via the town of Urrao which is around 4 Hours from Medellin or 3 hours from El Carmen. To reach the lodge it is necessary to walk or ride for 2 hours uphill with some steep sections. Horses can be provided for guests and luggage. While the Antioquia Antpitta and many good species can be found around the lodge, to see three of the endemics it is necessary to climb up to the Paramo at 3300m, which involves a one hour uphill horse ride or walk. It is quite feasible to bird back down on foot with the forest guard taking the horses down separately. It is also possible to walk back down from the lodge with horses taking the luggage and to bird the forest around and below the lodge.
Further information A short video of Las Tangaras [5] Birding Colombia website: [6] A short video of Colibri del Sol Reserve [7]
Cerulean Warbler and Pauxi Pauxi Reserve
These two reserves lie on opposite sides of a river valley and are around two hours apart and together hold 14 endemics, including the sought-after Gorgeted Wood Quail that comes to a seed feeder in the Cerulean Warbler Reserve. That reserve holds 9 of the endemics and has excellent visitor facilities. Pauxi Pauxi is ornithologically little known but has 3 – 4 endemics and can easily be day-tripped from Cerulean. The Recurve-billed Bushbird and Niceforo's Wren are in overgrown coffee plantations beside the Cerulean Warbler Reserve Lodge.
Endemic and notable birds 12 endemics (13 threatened, 359 species, with a bird lodge, trails, hummingbird feeders (with Chestnut-bellied Hummingbird); 3-4 hours from Bucaramanga airport.
1. Gorgeted Wood Quail (Cerulean) 2. Black Inca (Cerulean) 3. Chestnut-bellied Hummingbird (Cerulean and Pauxi) 4. Indigo-capped Hummingbird (Cerulean and Pauxi) 5. White-mantled Barbet (Cerulean and Pauxi) 6. Beautiful Woodpecker (Pauxi) 7. Parker's Antbird (Cerulean) 8. Magdalena Tapaculo (Cerulean) 9. Niceforo's Wren (Cerulean) 10. Turquoise Dacnis (Cerulean) 11. Sooty Ant Tanager (Pauxi) 12. Mountain Grackle (Cerulean)
Colombian Chachalaca (13) occurs at lower elevations along the road between San Vicente and Bucaramanga and may occur in the Pauxi reserve.
The Cerulean Warbler Reserve consists of two sections:
1. Lodge and Coffee Finca: A lodge with four spacious rooms has been built adjoining the original Coffee Finca. The Finca also has several rooms and groups of 10 or more can be accommodated. Around 6 hectares of bird friendly shade grown coffee are managed by ProAves as an example of best practice for the wider farming community. They are home to many North American migrants including small numbers of Cerulean Warblers. Indigo-capped Hummingbirds are common at the feeders at the lodge and Turquoise Dacnis is also often found in the lodge garden. The surrounding plantations are home to Niceforo's Wren and White-mantled Barbet. Chestnut-bellied Hummingbird has recently started to visit a hummingbird feeder near the lodge. Yellow-browed Shrike Vireo, Bar-crested Antshrike and a small population of Recurve-billed Bushbird add further interest.
2. Forest: A fairly steep 40 minutes uphill walk/ride across pasture leads to the main reserve which consists of premontane cloud forest bordering Yarigues National Park. A feeding station for Gorgeted Wood Quail has been very successful and this species is now regularly seen by visiting groups. Black Incas can be watched at hummingbird feeders next to the Wood Quail viewing screen. Parker's Antbird are fairly common in the forest as is Magdalena Tapaculo. Mountain Grackles can be rather mobile and erratic; however flocks of up to 15 individuals were present along the main trail in both September and October 2010. White-mantled Barbet also occurs in the forest. Other species of interest include Yellow-throated Spadebill, Ochre-breasted Antpitta, White-bellied Antpitta and Brown-billed Scythebill.
Pauxi Pauxi Reserve: This reserve has quite a distinct avifauna to that of Cerulean and holds many interesting lowland and foothill species. Beautiful Woodpeckers nest behind the guard's cabin, Sooty Ant-Tanagers are quite common in the forest and White-mantled Barbet is also present. The reserve lies on the edge of a much larger inaccessible forest tract. Both Blue-billed Curassow and Helmeted Curassow have been recorded historically from this area and probably still persist in the largely unexplored interior. If fortunate to find a flowering tree look out for Chestnut-bellied Hummingbird and Indigo-capped Hummingbird, Rufous-crested Coquette and Green Thorntail. Saffron-headed Parrots often visit a favourite feeding site on the edge of the reserve. Other species recorded have included Lita Woodpecker, Crimson-bellied Woodpecker, White-bibbed Manakin, Chestnut-breasted Wren, Dull-mantled Antbird, Black-headed Brush Finch, Northern Royal Flycatcher, Double-banded Greytail, South American Leaftosser, Slaty-winged Foliage-gleaner and Pale-vented Thrush. Recurve-billed Bushbird may occur although there have been no recent records.
Basic bunk bed accommodation, shared bathroom and meals are available at the guard's house. It is easy to make a day trip from the Cerulean Warbler reserve. A couple of trails provide access to the forest and a couple of hummingbird feeders have been installed. Hopefully faculties will improve as the site becomes better known.
Chestnut-capped Piha Reserve
Endemic and notable birds 9 endemics, 14 threatened, 254 species, with a bird lodge, trails, hummingbird feeders; 4.5 hours from Medellin.
1. Colombian Chachalaca 2. Chestnut Wood Quail 3. White-mantled Barbet 4. Parker's Antbird 5. Stiles's Tapaculo 6. Chestnut-capped Piha 7. Black-and-gold Tanager 8. Multicolored Tanager 9. Red-bellied Grackle
The Chestnut-capped Piha Reserve has one of the highest total number of endemics of a single site. However a number of these endemic do overlap with those sites mentioned previously. The three key species are the Chestnut-capped Piha, the Multicolored Tanager and Stiles's Tapaculo. Colombian Chachalacas occur along the forest edge and have recently been seen visiting the fruit feeders in the garden. Several seed feeders have been set up to try and attract Chestnut Wood Quail although no birds are currently visiting. This species can be heard and occasionally seen along the trails. White-mantled Barbet can be found in the forest and is perhaps most easily seen on the forest edge. Parker's Antbird is fairly common in the forest as is Stiles's Tapaculo.
The Chestnut-capped Piha is also reasonably common although it can be typically stolid and elusive. Black-and-gold Tanager are scarce along the ridge. Multicolored Tanagers occur in large mixed feeding flocks that move through the canopy. Piha Reserve is an excellent site for Red-bellied Grackle which can be found in mobile parties roaming the reserve. Other species of interest include Chestnut-crowned Gnateater, Lanceolated Monklet, Moustached Puffbird, Rufous-browed Tyrannulet, Cinnamon Screech Owl, Stygian Owls, Ochre-breasted Antpitta, Wattled Guan and Brown-billed Scythebill.
Access and Facilities: A lodge with four spacious rooms can sleep ten or more. Food is excellent. Good displays of commoner hummingbirds are present at the feeders (including West Andean Emerald). The fruit feeders also attract a selection of commoner species allowing great photo opportunities. The reserve is 4.5 hours north from Medellin with only the last 30 minutes being unpaved.
More information can be found here: [8]
Paujil Reserve
Although this site has a nice collection of endemics it does again overlap with some of the sites already mentioned. The real key here is the possibility to see Blue-billed Curassow. Conservation efforts do see to be paying off and this species does seem to be becoming commoner (1 in 2 trips sees the species). A number of birders visiting in January 2010 saw and photographed a female sitting on a nest and this autumn several visiting groups have seen individuals, as detailed in Jonathans report and also see the video[9].
Endemic and notable birds 6 endemics include: 1. Colombian Chachalaca 2. Blue-billed Curassow 3. White-mantled Barbet 4. Beautiful Woodpecker 5. Sooty Ant-Tanager
Colombian Chachalaca is very common around the reserve and also along the entrance road. White-mantled Barbet is fairly common. Beautiful Woodpecker is quite common and can be seen around the lodge or along the road that bisects the reserve. Sooty Ant-Tanager can be found commonly generally along wet gulleys throughout the reserve.
Although several of these endemic can be seen at other sites in the Magdalena valley none of those sites have the huge number of support species that can be found at Paujil. The reserve is one of the last remaining wilderness in the valley and thus supports a complete and diverse ecosystem.
Highlights include Black Antshrike, Bare-crowned Antbird, Dull-mantled Antbird, Chestnut-backed Antbird, Bicolored Antbird, Black-breasted Puffbird, White-whiskered Puffbird, Barred Puffbird, Great Tinamou, Little Tinamou (both tinamous seen fairly frequently), Marbled Wood Quail (also seen fairly frequently), Fulvous-vented Euphonia, Crested Guan, Southern Bentbill, Saffron-headed Parrot, Blue and Yellow Macaw, Chestnut-fronted Macaw, Agami Heron, King Vulture, Black Hawk Eagle, Red-throated Caracara, Choco Screech Owl, Foothill Screech Owl, Black-and-White Owl, Crested Owl, Rufous Mourner, Striolated Manakin, Golden-headed Manakin and a plethora of trogons, toucans, motmots, warrots, woodcreepers, antwrens, hummingbirds and flycatchers.
The two hour off-road drive in is also excellent for a number of wetland species, with Northern Screamer and Rufescent Tiger Heron being especially interesting. The reserve is also excellent for other wildlife including mammals, butterflies and frogs. Up to four species of Monkey can be seen during a two or three day visit including White-faced Capuchin, Red-Mantled Howler, Night Monkey and the critically endangered Magdalena (Variegated) Spider Monkey.
Access and Facilities
The reserve has four rooms with ensuite bathrooms and several dormitory rooms with bunk beds and shared bathroom facilities. Large groups can be accommodated easily. Meals are served in a pleasant open air but covered dining area.
The trail network is ok. The terrain is not mountainous but is undulating and some climbs can be short and steep. Some trail surfaces can be uneven. The climate can be very hot and humid although it does cool down quite pleasantly at night. Rain tends to consist of short heavy downpours and generally does not occur for extended periods. Biting insects are common during the day but pleasantly largely absent at night. All birders are advised to bring plenty of bug spray and be prepared for a hot environment. The reserve is a 2.5 hour off road drive (which can produce quite a few birds) from the town of Puerto Boyaca located in the centre of the Magdalena valley. Puerto Boyaca is around 6 – 7 hours from Bogotá (birders may wish to visit several birding sites on route to help break up the journey). Or around 8 hours drive from the Cerulean Warbler reserve. There are no airports nearby.
A bus runs once or twice a day from Puerto Boyaca to the small town of Puerto Pinzon. From here it is a 20 min motorised canoe ride (not operating if the water level is too low) or a 1 hour walk (motorbikes or horses can be arranged to take luggage) into the reserve. For further visiting details please talk to ProAves.
Further information
More information about the reserve can be found here [10]
A video of the reserve providing a good overview can be found here (English)[11].
Other sites that are well worth visiting
Nevado del Ruiz and area (near to Manizales, Central Andes range) includes native paramo grassland and scrub near the volcano, which is great for several difficult highland hummingbirds such as Bearded Helmetcrest, Rainbow-bearded Thornbill and Black-thighed Puffleg, antpittas, Black-backed Bush Tanager as well as the endemic Rufous-fronted Parakeet, and in general for its absolutely stunning scenery. Lower down the slope and beside the city of Manizales is Rio Blanco Reserve that has an antpitta feeing station for one endemic (Brown-banded Antpitta) and several attractive antpittas. An advisory: the Nevado del Ruiz had a minor eruption recently so it's possible that the roads are closed around the volcano.
Chingaza National Park and Guasca Gravel pits (near the capital Bogotá in Eastern Andes range): is also paramo grassland, montane forest and wetlands on the way. Four endemics are possible: Silvery-throated Spinetail (E), Flame-winged Parakeet (E), Matorral Tapaculo (E) and at the wetland Bogota Rail (E). Many great near-endemics, including Blue-throated Starfrontlet and Golden-bellied Starfrontlet (NE), Coppery-bellied Puffleg (NE), Bronze-tailed Thornbill (NE) and Purple-backed Thornbill, as well as other good birds such as Black-billed Mountain Toucan. Spot-flanked Gallinule and Noble Snipe are common with the rail on the Gravel Pit.
External Links