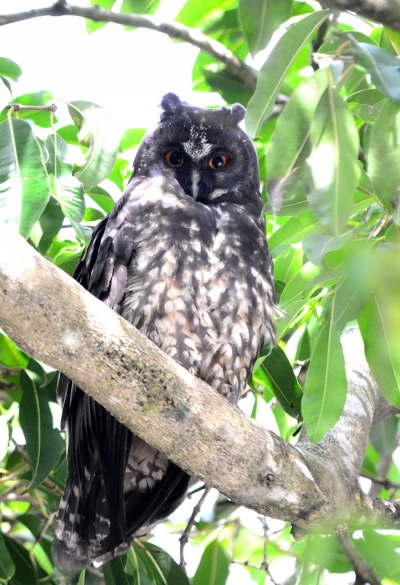 Asio stygius
Identification
38-46cm (15-18 cm); long erectile ear tufts
Dark facial disc
Sooty black back, with some white and buff bars and mottling
Buff underparts, with black streaks and bars
Yellow eyes
Black bill
Bare toes
Feathered legs
Long wings are long
Relatively short tail
Distribution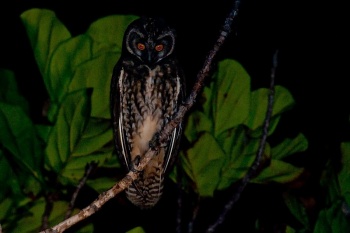 Central America, Caribbean, South America
Central America: from Mexico through parts of Belize and Guatemala to Panama.
Caribbean: Cuba with Isla de Juventud and Hispaniola with Gonave Island.
South America: from Colombia and north-west and south Venezuela, through Ecuador and Peru to Bolivia, and east from those areas to south and central Brazil, Paraguay and north Argentina.
Has occurred twice in southern Texas.
Recent finds have extended the range in Peru where formerly a gap in the distribution was expected.
Taxonomy
Subspecies[1]:
Highlands of western Mexico (south-western Chihuahua to Jalisco)
Hispaniola and Gonâve Island
Habitat
Mountain pine and pine-oak forests, rainforest and low, thorny bush country.
Behaviour
Nocturnal.
Diet
The diet consists almost entirely of bats, birds, rodents, reptiles, crustaceans and insects.
Breeding
The clutch consists of 2 eggs which are incubated by the female.
References
Clements, J. F., T. S. Schulenberg, M. J. Iliff, D. Roberson, T. A. Fredericks, B. L. Sullivan, and C. L. Wood. 2016. The eBird/Clements checklist of birds of the world: v2016, with updates to August 2016. Downloaded from http://www.birds.cornell.edu/clementschecklist/download/
Birdforum thread discussing aspects of Stygian Owl biology and range.
Owl Pages
Handbook of the Birds of the World Alive (retrieved April 2017)
Recommended Citation
External Links