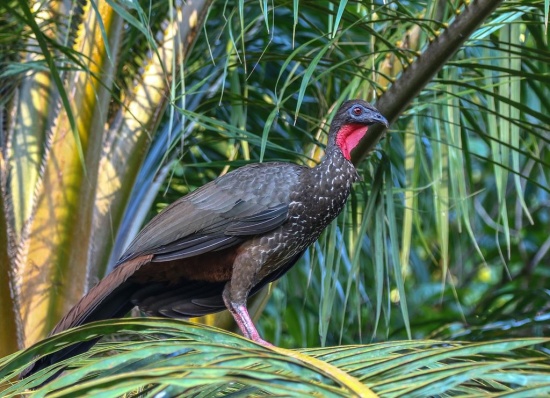 Penelope purpurascens
Identification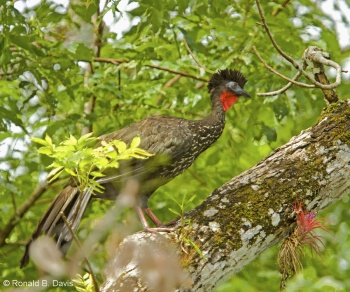 72–91 cm (28¼-35¾ in); This species often gives a very dark impression
In pefect light, the white speckling becomes more noticeable
Dark brown
Bushy crest is only raised part of the time
Bare blue grey skin around eye
Red wattle
White spotted neck and breast
Rufous rump and belly
Long red legs
Broad, long tail
Sexes similar
Juvenile - black vermiculations and ochre specks on body
Similar species
In most areas the largest Guan present, but may be mistaken for Highland Guan or Baudo Guan.
Distribution
South America: found from Mexico (southern 2/3) through Central America and South America to western Ecuador and northern Venezuela.
Taxonomy
Subspecies
Three subspecies are recognized[1]:
Habitat
Lowlands up to 1000 m, rarely to 1800 or even 2500 m; everywhere found in forested areas including edges.
Behaviour
Usually foraging in canopy or subcanopy, occurring singly, in pairs, or in small groups.
Diet
They mostly eat fruits such as berries and figs, either on the tree or those that have fallen to the ground.
Breeding
They build a large nest from twigs which is lined with leaves. The 2-3 large, rough, white eggs are incubated by the female.
Vocalisation
Call: plee or quonk.
Song: keLEEEErrrr
References
Clements, J. F., T. S. Schulenberg, M. J. Iliff, D. Roberson, T. A. Fredericks, B. L. Sullivan, and C. L. Wood. 2018. The eBird/Clements checklist of birds of the world: v2018. Downloaded from http://www.birds.cornell.edu/clementschecklist/download/
BF Member observations
Recommended Citation
External Links