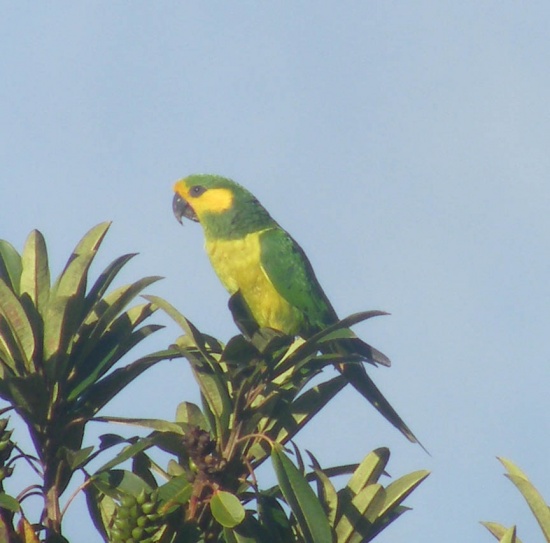 Ognorhynchus icterotis
Identification
42 cm (16½ in)
Bright green upperparts
Dark grey eye-ring
Yellow face and ear-coverts
Green throat
Yellow underparts
Black bill
Distribution
South America: Colombia. Was in the past also present in Ecuador, and unconfirmed reports claim it can still be seen there.
Taxonomy
Habitat
Cloud forests, elfin forest and other montane humid forest including disturbed areas, but closely associated to the wax palm Ceroxylon quindiuense an endangered species.
Status
Endangered. Logging, harvest of palm leaves, and planting of exotic trees all are threats to the future of this species which however have been improving its status the last 10 years.
Behaviour
Breeding
They nest in the trunks of the wax palm the clutch consists of 4 eggs. The adults are assisted by a brood helper who helps with feeding and caring for the young.
Diet
The diet consists mostly of the fruits of the wax palm.
Movements
One population seems resident while others wander around driven by search for suitable food
References
Clements, J. F., T. S. Schulenberg, M. J. Iliff, D. Roberson, T. A. Fredericks, B. L. Sullivan, and C. L. Wood. 2015. The eBird/Clements checklist of birds of the world: v2015, with updates to August 2015. Downloaded from http://www.birds.cornell.edu/clementschecklist/download/
Birdlife International
Handbook of the Birds of the World Alive (retrieved September 2015)
The Website of Everything
Recommended Citation
External Links