This article is incomplete.
This article is missing one or more sections. You can help the BirdForum Opus by expanding it.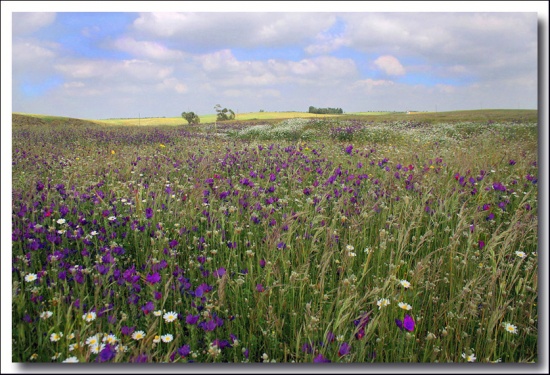 Overview
One of the best birding areas of southern Portugal, the southern part of the Alentejo is a large area of plains with scattered limestone outcrops, cork-oak woods and olive groves and towards the Spanish border in the east there are river-gorges with rocky cliffs.
The area is important for steppe-dwelling birds such as bustards and there are high numbers of breeding raptors. The area is easy to reach from the popular tourist spots of the Algarve.
Birds
Notable Species
The Baixo Alentejo covers a vast area and the birding is good over much of it, but there are particular areas that should not be missed. One of the best parts and the easiest to reach from the Algarve is around Castro Verde.
The grasslands to the east of the town, and east of Almodovar to the south are home to the country's largest Great Bustard population. Other steppe species found here include Little Bustard and Stone-curlew, and larks are well represented with Calandra Lark, Greater Short-toed Lark and Mediterranean Short-toed Lark, Crested Lark, Thekla Lark and Wood Lark all present. Cattle Egret and White Stork are common breeders and Spanish Sparrow can often be seen around the storks' nests. Black-bellied Sandgrouse also occurs in the area and there are Iberian specialities such as Great Spotted Cuckoo, Red-necked Nightjar, Rufous-tailed Scrub Robin, Iberian Magpie and Spotless Starling. Hoopoe and European Bee-eater are common and even European Roller is fairly numerous as are Iberian Grey Shrike and Woodchat Shrike.
To the east is the hilltop town of Mertola on the River Guadiana where Portugal's largest Lesser Kestrel colony can be found and just east of here is Mina de Sao Domingos where White-rumped Swift nests in small numbers. Egyptian Vulture, Bonelli's Eagle and Black Stork breed at Pulo do Lobo on the Guadiana north of Mertola and there are important heronries in the central Guadiana valley. Common Crane occurs on the grasslands in winter.
Rarities
Common Buttonquail (Andalusian Hemipode) has been reported from the area but the true status of this extremely rare and very elusive bird in the area is unknown. Black Wheatear has also been reported in the area and may be regular.
Checklist
Birds you can see here include:
Little Grebe, Little Bittern, Black-crowned Night Heron, Cattle Egret, Little Egret, Grey Heron, Purple Heron, Black Stork, White Stork, Mallard, Red-crested Pochard, Black-shouldered Kite, Black Kite, Red Kite, Egyptian Vulture, Griffon Vulture, Eurasian Black Vulture, Short-toed Eagle, Hen Harrier, Montagu's Harrier, Northern Goshawk, Common Buzzard, Spanish Imperial Eagle, Golden Eagle, Bonelli's Eagle, Booted Eagle, Osprey, Lesser Kestrel, Common Kestrel, Merlin, Northern Hobby, Peregrine Falcon, Red-legged Partridge, Common Quail, Common Moorhen, Common Crane, Great Bustard, Little Bustard, Stone-curlew, Collared Pratincole, Little Ringed Plover, Golden Plover, Northern Lapwing, Black-bellied Sandgrouse, Feral Rock Dove, Eurasian Collared Dove, European Turtle Dove, Great Spotted Cuckoo, Common Cuckoo, Barn Owl, Eurasian Eagle Owl, Little Owl, Red-necked Nightjar, Alpine Swift, Common Swift, White-rumped Swift, Common Kingfisher, European Bee-eater, European Roller, Eurasian Hoopoe, Iberian Green Woodpecker, Great Spotted Woodpecker, Lesser Spotted Woodpecker, Calandra Lark, Greater Short-toed Lark, Mediterranean Short-toed Lark, Crested Lark, Thekla Lark, Wood Lark, Eurasian Skylark, Eurasian Crag Martin, Barn Swallow, Red-rumped Swallow, Northern House Martin, Tawny Pipit, Meadow Pipit, Water Pipit, White Wagtail, Grey Wagtail, Common Wren, Alpine Accentor, Rufous-tailed Scrub Robin, Common Nightingale, European Stonechat, Black Redstart, Western Black-eared Wheatear, Black Wheatear, Blue Rock Thrush, Ring Ouzel, Eurasian Blackbird, Cetti's Warbler, Zitting Cisticola, Great Reed Warbler, Melodious Warbler, Dartford Warbler, Spectacled Warbler, Western Subalpine Warbler, Sardinian Warbler, Orphean Warbler, Blackcap, Common Firecrest, Spotted Flycatcher, European Pied Flycatcher, Long-tailed Tit, Crested Tit, Blue Tit, Great Tit, Short-toed Treecreeper, Eurasian Golden Oriole, Iberian Grey Shrike, Woodchat Shrike, Common Jay, Iberian Magpie, Common Magpie, Red-billed Chough, Eurasian Jackdaw, Carrion Crow, Northern Raven, Spotless Starling, House Sparrow, Spanish Sparrow, Rock Sparrow, Common Waxbill, Chaffinch, European Serin, European Greenfinch, European Goldfinch, Eurasian Linnet, Hawfinch, Rock Bunting, Corn Bunting
Other Wildlife
To do
Site Information
History and Use
To do
Areas of Interest
In the northern part of the Baixo Alentejo the best birding area lies in the triangle between the towns of Mourao, Moura and Barrancos. In addition to the steppe species found further south this area has an excellent raptor list with Red Kite, Black Kite and Black-shouldered Kite and Montagu's Harrier. The rockier areas particularly near Barrancos have Egyptian Vulture and Eurasian Black Vulture, Short-toed Eagle and Booted Eagle and small numbers of Spanish Imperial Eagle and Golden Eagle. Blue Rock Thrush, Eurasian Crag Martin, Rock Sparrow and Rock Bunting are among the passerines found in the gorges.
One of the best of the hilly areas is Mt Foia where Rock Bunting, Blue Rock Thrush, Ring Ouzel and even Alpine Accentor can be seen in winter. Woodlands on the lower slopes hold Lesser Spotted Woodpecker, Crested Tit and Common Firecrest.
Access and Facilities
Castro Verde, Moura and other towns in the Baixo Alentejo have hotel accommodation but most visitors will undoubtedly travel up by road from the Algarve, one of the Mediterranean's most popular holiday areas.
Contact Details
To do
External Links
Content and images originally posted by Steve
For a free PDF guide to Birdwatching in the Algarve,go to:
http://www.visitalgarve.pt/pressroom.file.php?fileID=123&file=guia_observacao_aves_baixa_resolucao_pt.pdf