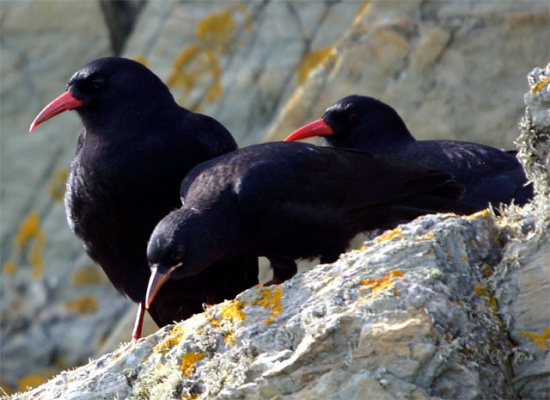 Alternative names: Common Chough; Cornish Chough
Pyrrhocorax pyrrhocorax
Identification
38 - 41cm (15-16 in). A medium-sized corvid.
Red bill which is relatively long, slim and gently decurved
Red legs, rather short for a corvid
Relatively small head
Plumage glossy blue-back, glossed greenish on wings and tail
Broad, fingered wings prominent in flight
Sexes similar. Juveniles have duller plumage and dull orange bill.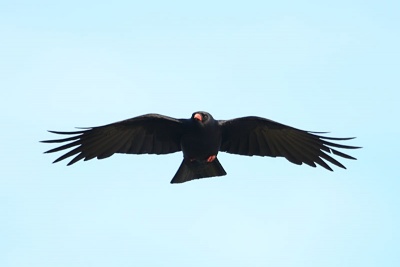 Similar species
Can be confused with Yellow-billed Chough if bill is not seen. The broad wings with the distinctive fingers are typical for Red-billed Chough.
Distribution
They breed on the west coast of Great Britain, mainly in Cornwall, Wales and Islay in Scotand; the Isle of Man and Ireland. Southern Europe and the Mediterranean basin, the Alps
It breeds in Great Britain, the Isle of Man, Ireland, southern Europe and the Mediterranean basin, the Alps, and in mountain areas across central Asia, India and China.
There is also an isolated population in the Ethiopian highlands.
Locally common. Has declined in part of its range, especially in Europe.
Taxonomy
Hybrids with Yellow-billed Chough have been reported.
Subspecies
Eight subspecies accepted[1]:
Habitat
Coastal cliffs and high mountain pastures. Up to 6000m in the Himalayas and reported at 7950m near Mount Everest.
Behaviour
Diet
Diet consists almost entirely of insects and terrestrial molluscs, including craneflies and beetles
Breeding
They build their nests in crevices of caves or cliffs. The nests are constructed from roots and stems of plants such as heather or furze, and are lined with hair or wool. The clutch consists of 3-6 eggs which are laid in April-May in western Europe.
Movements
A resident species with some altitudinal movements.
Vocalisation
It has a loud, ringing call chee-ow.
References
Clements, JF. 2008. The Clements Checklist of Birds of the World. 6th ed., with updates to December 2008. Ithaca: Cornell Univ. Press. ISBN 978-0801445019.
Del Hoyo, J, A Elliott, and D Christie, eds. 2009. Handbook of the Birds of the World. Volume 14: Bush-shrikes to Old World Sparrows. Barcelona: Lynx Edicions. ISBN 978-8496553507
Handbook of the Birds of the World Alive (retrieved March 2017)
Wikipedia
Recommended Citation
External Links
GSearch checked for 2020 platform.