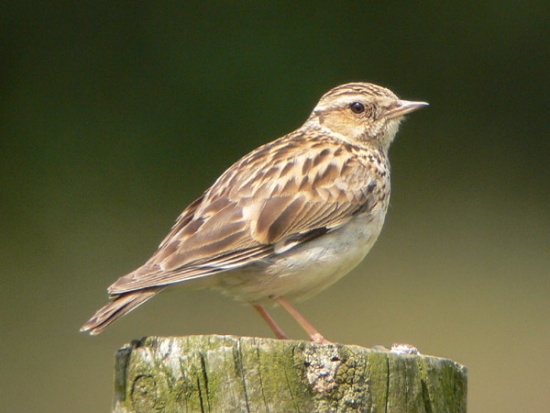 Lullula arborea
Identification
15 cm (6 in)
Brown upperparts
Pale underparts
White supercilium meeting on the nape
Crest on crown (sometimes concealed)
White-tipped tail
Short tail
Short broad wings
The black and white marks on the alula are a good fieldmark.
Distribution
Europe including European part of Russia, Caucasus, the Middle East, and the mountains of north Africa north of the Sahara.
Taxonomy
Subspecies
Two subspecies are recognized1:
Some authorities include a third subspecies familiaris2.
Habitat
Open heath with some trees, and other open woodlands, especially those with pines and light soil.
Behaviour
Breeding
A monogamous species; they are solitary and territorial. The clutch consists of 6 eggs which are laid in a ground nest.
Diet
The diet consists of seeds and other vegetable matter during the winter months. They mostly rely on insects in the breeding season.
References
Clements, J. F., T. S. Schulenberg, M. J. Iliff, D. Roberson, T. A. Fredericks, B. L. Sullivan, and C. L. Wood. 2016. The eBird/Clements checklist of birds of the world: v2016, with updates to August 2016. Downloaded from http://www.birds.cornell.edu/clementschecklist/download/
Handbook of the Birds of the World Alive (retrieved June 2017)
Avibase
Wikipedia
Recommended Citation
External Links
GSearch checked for 2020 platform.1