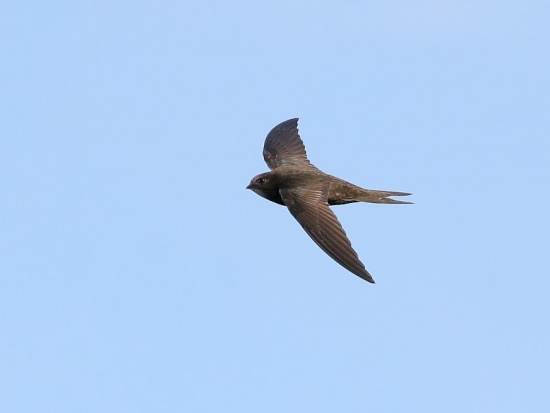 Apus apus
Identification
Common Swifts are 16-17 cm long and entirely blackish-brown except for a small white or pale grey patch on their chins which is not visible from a distance. They have a short forked tail and very long swept-back wings that resemble a crescent or a boomerang.
The inner part of the wing has front and back edge paralel to each other. Swallows and Martins have wings giving a more triangular impression.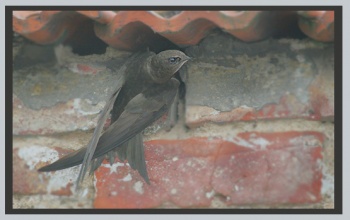 Similar species
Pallid Swift (see references)
Common Swifts appear all dark and very sickle or boomerang-shaped and are comparatively large compared to the three hirundines below.
Barn Swallows are mostly pale from below and all dark above, with a dark (and reddish) throat/head and long, dark tail streamers.
Common House Martin are very white below and dark from above, with much shorter, dark tail, and a prominent white rump
Sand Martin are pale from below with a dark throat band, but noticeably brown-coloured.
There is a difference in the flying style too: House martin flight is more fluttery than a Barn Swallow which is faster, more direct and swooping, while Sand Martin are more fluttery still, and Common Swift are very fast and look somewhat stiff-winged.
Finally, the calls are all quite distinct: swift calls are quite loud and screeching, while swallows are more twittery and varied. House martin and Sand Martin calls are quite similar, less sustained than swallows possibly, and more chirpy and clipped, with sand martin being slightly scratchier or hoarse sounding
Distribution
By far the commonest swift of much of its range. Breeds from the Mediterranean north to northern Scotland, central Norway and the Kola Peninsula. Breeds across North-West Africa and in scattered localities in the Middle East. Has bred on Malta and recently discovered breeding in the Canary Islands. To the east range extends across Asia to northern China.
A summer visitor throughout range , wintering in sub-Saharan Africa and India. Autumn passage is mainly late July-September, rarely until late October, even November. Return movement reaches southern Europe in late March, further north in late April-May.
Taxonomy
Subspecies
There are 2 subspecies[1]
A. a. pekinensis: paler and browner plumage with more extensive white throat patch
Habitat
Feeds chiefly over open country and often over water, commonly in urban areas, in lowlands or mountains.
Behaviour
Swifts spend most of their lives in the air, living on the insects they catch in their beaks. They drink and even sleep on the wing.
Breeding
Monogomous. They build their nests mainly in holes in buildings, but also crevices in cliffs and caves. They return to the same nest every year.
Vocalisation
References
Clements, J. F., T. S. Schulenberg, M. J. Iliff, B.L. Sullivan, C. L. Wood, and D. Roberson. 2013. The eBird/Clements checklist of birds of the world: Version 6.8., with updates to August 2013. Downloaded from http://www.birds.cornell.edu/clementschecklist/download/
Birdforum thread discussing id of common and pallid swifts
and another Birdforum thread with some amazing photos of both
Recommended Citation
External Links
GSearch checked for 2020 platform.1