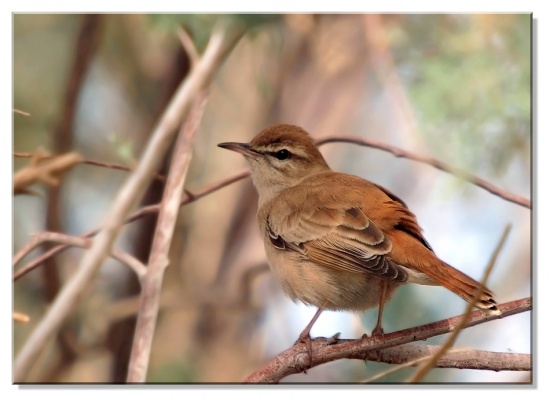 Alternative names: Rufous Bush-Robin; Rufous Bush-Chat
Cercotrichas galactotes
Includes: African Scrub-Robin
Identification
Brown upper parts, white under parts, and a prominent white eye-stripe. The rufous tail looks unremarkable when the bird hold its tail flat and looks very long when the tail is raised. The tail is frequently fanned, showing the black and white tips of the tail feathers (more noticeable from the underside).
Distribution
Found in the Mediterranean, North Africa, West and Central Africa, Middle East to Iran and Pakistan.
Taxonomy
Subspecies
The first three subspecies are recognised by Clements[1]
Western Mediterranean basin and North Africa; winters to southern Sahara
Eastern Mediterranean basin and Middle East; winters to eastern Africa
Two other subspecies minor and hamertoni from subsaharan Africa has in the past been split as African Scrub-Robin Cercotrichas minor.
Eastern Somalia (Beira and Wagar mountains)
Habitat
Dry open country with bushes and shrubs.
Behaviour
Breeding
It builds its nest in a bush; 3-5 eggs are laid.
Diet
The diet incldudes insects mostly caught on the ground.
References
Clements, J. F., T. S. Schulenberg, M. J. Iliff, S. M. Billerman, T. A. Fredericks, B. L. Sullivan, and C. L. Wood. 2019. The eBird/Clements Checklist of Birds of the World: v2019. Downloaded from http://www.birds.cornell.edu/clementschecklist/download/
Recommended Citation
External Links
GSearch checked for 2020 platform.1