This article is incomplete.
This article is missing one or more sections. You can help the BirdForum Opus by expanding it.
Overview
The Farallon Islands, part of the US National Wildlife Refuge system, are comprised of 4 groups of small, rugged islands located approximately 30 miles off the coast of the State of California.
They consist of Southeast Farallon, North Farallon, Middle Farallon, Noonday Rock, and South Farallon. They are, with the exception of Southeast Farallon, part of the Farallon Wilderness Area. They are also designated as a State Ecological Reserve and Golden Gate Biosphere Reserve.
Southeast Farallon is the only island with structures. These are leftover from an earlier time and are used for residential purposes by scientific and maintenance people when working on the island.[2]
Birds
Notable Species
These islands have been said to be the location of the largest colony of nesting seabirds south of Alaska with approximately ¼ of the California breeding population taking place here.
As well, they also have the largest Western Gull colony in the world and support half the world's population of the Ashy Storm Petrel. Other seabird species nesting here can include the Leach's Storm Petrel, Fork-tailed Storm Petrel, Double-crested Cormorant, Brandt's Cormorant, Pelagic Cormorant, Black Oystercatcher, Common Murre, Pigeon Guillemot, Cassin's Auklet, Rhinoceros Auklet, and Tufted Puffin.[2]
The Farrallon Islands have had 442 species reported as having been seen here with 24 globally threatened species. [1]
Rarities
Species regarded as rare for this area[1] can include the Common Merganser, Pied-billed Grebe, Black-billed Cuckoo, Ruby-throated Hummingbird, Eurasian Dotterel, Upland Sandpiper, Little Stint, Thick-billed Murre, Parakeet Auklet, Black-tailed Gull, Lesser Black-backed Gull, Kelp Gull, Red-tailed Tropicbird, Band-rumped Storm-Petrel, Wedge-rumped Storm-Petrel, Tristram's Storm-Petrel, Kermadec Petrel, Great Shearwater, Manx Shearwater, Magnificent Frigatebird, Great Frigatebird, Masked Booby, Nazca Booby, Blue-footed Booby, Red-footed Booby, Northern Gannet, Ferruginous Hawk, Greater Pewee, Eastern Wood-Pewee, Yellow-bellied Flycatcher, Alder Flycatcher, Great Crested Flycatcher, Brown-crested Flycatcher, Sulphur-bellied Flycatcher, White-eyed Vireo, Yellow-throated Vireo, Blue-headed Vireo, Yellow-green Vireo, Brown Shrike, Lanceolated Warbler, Dusky Warbler, Arctic Warbler, Winter Wren, Gray-cheeked Thrush, Red-flanked Bluetail, Northern Wheatear, Eastern Yellow Wagtail, White Wagtail, Olive-backed Pipit, Red-throated Pipit, Common Rosefinch, Common Redpoll, Smith's Longspur, Snow Bunting, Little Bunting, Cassin's Sparrow, Black-chinned Sparrow, Field Sparrow, LeConte's Sparrow, Baird's Sparrow, Worm-eating Warbler, Louisiana Waterthrush, Blue-winged Warbler, Connecticut Warbler, Mourning Warbler, Cape May Warbler, Pine Warbler, Yellow-throated Warbler, Prairie Warbler, Grace's Warbler, Red-faced Warbler, and Scarlet Tanager.
Check-list
Birds you can see here include:
Snow Goose, Red-necked Grebe, Band-tailed Pigeon, Yellow-billed Cuckoo, Lesser Nighthawk, Vaux's Swift, Black-chinned Hummingbird, Virginia Rail, Sandhill Crane, American Avocet, Black Oystercatcher, Killdeer, Ruddy Turnstone, Willet, South Polar Skua, Pigeon Guillemot, Horned Puffin, Laughing Gull, Caspian Tern, Red-billed Tropicbird, Pacific Loon, Wilson's Storm-Petrel, Black Storm-Petrel, Short-tailed Shearwater, Northern Fulmar, Brown Booby, Pelagic Cormorant, Brown Pelican, Cattle Egret, White-faced Ibis, Turkey Vulture, Osprey, Bald Eagle, Barn Owl, Short-eared Owl, Belted Kingfisher, Acorn Woodpecker, Merlin, Black Phoebe, Western Kingbird, Blue-headed Vireo, Northern Shrike, Steller's Jay, Horned Lark, Purple Martin, Ruby-crowned Kinglet, Pygmy Nuthatch, Brown Creeper, Blue-gray Gnatcatcher, Marsh Wren, European Starling, Sage Thrasher, Hermit Thrush, Bohemian Waxwing, Phainopepla, House Sparrow, American Pipit, Pine Siskin, Lapland Longspur, Little Bunting, Field Sparrow, Golden-crowned Sparrow, Yellow-breasted Chat, Scott's Oriole, Common Grackle, Ovenbird, Kentucky Warbler, Wilson's Warbler, Hepatic Tanager, Painted Bunting
Other Wildlife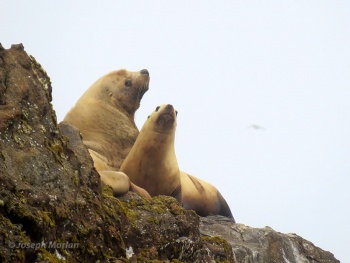 In addition to the bird species here, there is the possibility of seeing Steller's Sea Lion, California sea lions, harbor and northern elephant seals as well as sharks, bats and salamanders.[2]
Site Information
History and Use
"to do"
Areas of Interest
"to do"
Access and Facilities
Access onto the islands, by the general public, is not allowed. This stance is due to various reasons that can include protection of the wildlife and birds, lack of docking facilities on most of the islands, and lack of facilities for visitors.
Access is restricted, by and large, to scientific efforts and maintenance needs. However, interested parties can apply to volunteer their time to assist in certain maintenance type jobs.
Marine access to the waters around the islands is possible, but is restricted and controlled.[2]
Since these islands are off the California coast, west of San Francisco, the closest commercial airport supporting scheduled air service will be San Francisco International Airport (SFO).
Consult a trusted travel professional for specific, up-to-date information.
Contact Details
Farallon National Wildlife Refuge
1 Marshlands Rd.
Fremont, CA 94555
Phone: 510-792-0222
Email: [email protected]
References
Lepage D. (2020) UScasffa Farallon Islands Bird Checklist - Avibase - Bird Checklists of the World. Retrieved 23 September 2020
Farallon Islands National Wildlife Refuge – US Fish and Wildlife Service - https://www.fws.gov/refuge/Farallon_Islands/
FAQ – Farallon Islands National Wildlife Refuge - https://www.fws.gov/refuge/Farallon_Islands/what_we_do/FAQS.html
Recommended Citation
External Links
"to do"
Maps