Includes Ecuadorian Rail
Rallus limicola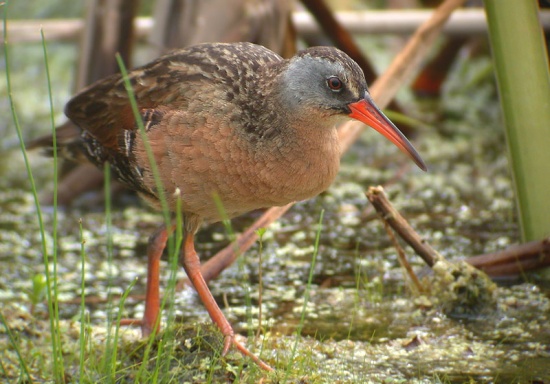 Identification
Rufous breast
Long, slightly decurved bill
Red bill and legs
Grey face
Black and white barring on flanks
Brown streaking on back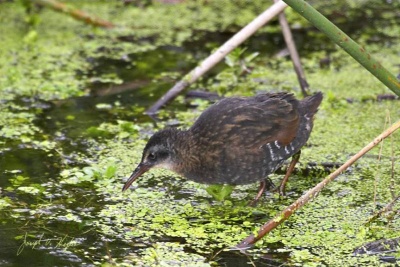 Similar Species
Similar to King Rail, but king rail is much larger, with light brownish bill and legs, less grey in face.
Distribution
Nova Scotia to California and North Carolina; southwestern Colombia to western Peru; southern Chile and Argentina.
Taxonomy
Subspecies1
The last two subspecies are sometimes considered a separate species, "Ecuadorian Rail".
Habitat
Shallow freshwater marshes with emergent vegetation.
Behaviour
Diet
The diet includes insects and aquatic animals.
Breeding
The nest is a platform composed of cattails and other plants in a dry area in the marsh. The clutch consists of 5 to 13 eggs. Both adults care for the young.
References
Clements, J. F., T. S. Schulenberg, M. J. Iliff, T. A. Fredericks, J. A. Gerbracht, D. Lepage, S. M. Billerman, B. L. Sullivan, and C. L. Wood. 2022. The eBird/Clements checklist of Birds of the World: v2022. Downloaded from https://www.birds.cornell.edu/clementschecklist/download/
Gill, F, D Donsker, and P Rasmussen (Eds). 2022. IOC World Bird List (v 12.2) DRAFT. Doi 10.14344/IOC.ML.12.2. http://www.worldbirdnames.org/
Wikipedia
Recommended Citation
External Links
GSearch checked for 2020 platform.