Alternative names: Golden-crowned Thrush, Golden-crowned Accentor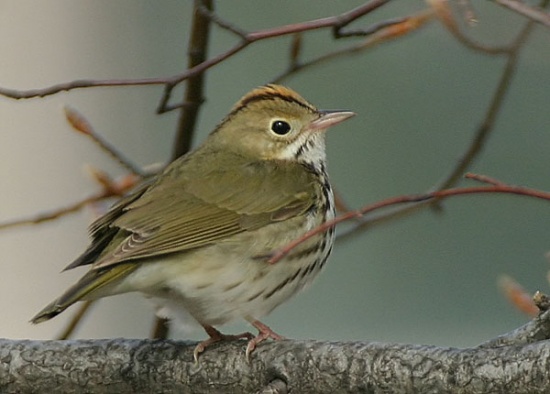 Identification
5 inches
Thin, pointed bill
White eye ring
Orange central crown stripe with black border
White underparts with dense black streaking
Olive upperparts
Pink legs

Sexes similar; young lack the orange crown
Distribution
North America from northeastern British Columbia east to Newfoundland south to Colorado (scattered), Arkansas, northern Alabama and northern South Carolina. Winters in Florida, Central America, the Caribbean, and northern South America.
Rare but regular vagrant throughout the western United States. Accidental to Greenland and Great Britain.
Taxonomy
Subspecies
There are 3 subspecies1:
An additional subspecies canivirens breeding in southern Appalachia (is not recognized by many authorities.2)
Habitat
Mature deciduous and mixed forests, especially sites with less undergrowth.
Behaviour
Breeding
The domed nest resembles a Dutch oven, hence how the bird got its name. The female builds the ground nest from grass; it has a small side entrance. The 4-6 white eggs have irregular reddish-brown spots at the large end. The clutch is incubated for 11-14 days.
Diet
The diet includes crickets, ants, spiders, caterpillars, aphids, earthworms, moths, slugs and beetles.
References
Clements, J. F., T. S. Schulenberg, M. J. Iliff, D. Roberson, T. A. Fredericks, B. L. Sullivan, and C. L. Wood. 2014. The eBird/Clements checklist of birds of the world: Version 6.9., with updates to August 2014. Downloaded from http://www.birds.cornell.edu/clementschecklist/download/
Dunn, Jon; Garrett, Kimball. 1997. A Field Guide to Warblers of North America. Boston: Houghton Mifflin Company. ISBN 9780395783214
Recommended Citation
External Links
GSearch checked for 2020 platform.1