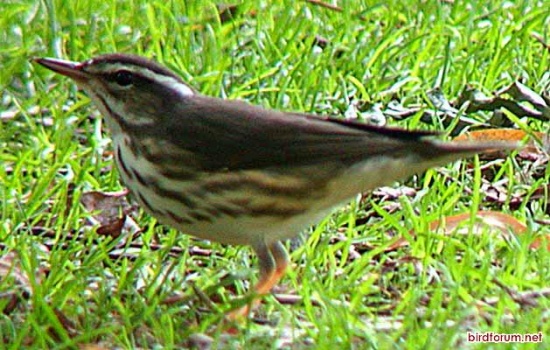 Parkesia motacilla
Seiurus motacilla
Identification
5.25 inches. Upperparts, wings and tail, dark brown, slight olive tint. White throat, white eyebrow. Relatively long legs and feet pink. Female: Same as adult male.
Similar Species
Northern Waterthrush See Sibley's take on these two3
Distribution
Breeds in the eastern United States from southern Minnesota east to most of New York, Vermont, and New Hampshire south to eastern Texas east to Georgia. Casual to accidental vagrant in the western United States.
Winters to Florida, the West Indies and northwest South America.
Taxonomy
It was formerly placed in genus Seiurus.
Habitat
Mature deciduous or mixed forests near rocky streams (only very rarely found near standing water). In migration found in a variety of damp areas near water.
Behaviour
Diet includes aquatic insects and invertebrates, flying insects and sometimes small fish or small frogs.
It builds its nest on the ground along stream banks, hidden in the underbrush or among the roots of fallen trees. 4-6 white-creamy eggs with speckles, spots, or blotches of reddish brown are laid.
References
Clements, JF. 2009. The Clements Checklist of Birds of the World. 6th ed., with updates to December 2009. Ithaca: Cornell Univ. Press. ISBN 978-0801445019.
Sibley's id paper on Waterthrush identification
External Links