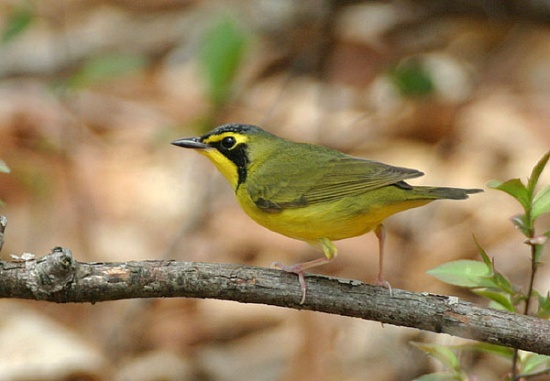 Geothlypis formosa
Oporornis formosus
Identification
13 cm (5 to 6 inches) in length. Olive-green back and nape, yellow below from their throat to their belly. Tinge of black on crown, large black mask with a yellow pattern that runs from the beak and encircles the eyes. Females have slightly less black on the sides of their head, and immature birds may have almost no black at all.
Distribution
Breeds in Missouri east to Southern Pennsylvania, south to eastern Texas and Georgia. Winters in Central America. Vagrant north of range and rare vagrant to California, Colorado, New Mexico and Arizona.
Taxonomy
This is a monotypic species[1]. More northern populations sometimes considered as a separate subspecies G. f. umbraticus but most authors reject this2.
Has hybridized with the Blue-winged Warbler twice.
Formerly placed in genus Oporornis,
Habitat
Dense moist deciduous forests.
Behaviour
They nest on the ground. 3 to 6 , white or cream and specked with brown eggs are laid. Incubation is done by the female only, and lasts for about 12 days. The young Kentucky Warblers usually leave the nest about 10 days after hatching.
References
Clements, JF. 2011. The Clements Checklist of Birds of the World. 6th ed., with updates to August 2011. Ithaca: Cornell Univ. Press. ISBN 978-0801445019. Spreadsheet available at http://www.birds.cornell.edu/clementschecklist/downloadable-clements-checklist
Dunn, Jon; Garrett, Kimball. 1997. A Field Guide to Warblers of North America. Boston: Houghton Mifflin Company. ISBN 9780395783214
Birdforum thread discussing the taxonomy of Yellowthroats and Kentucky Warbler
External Links