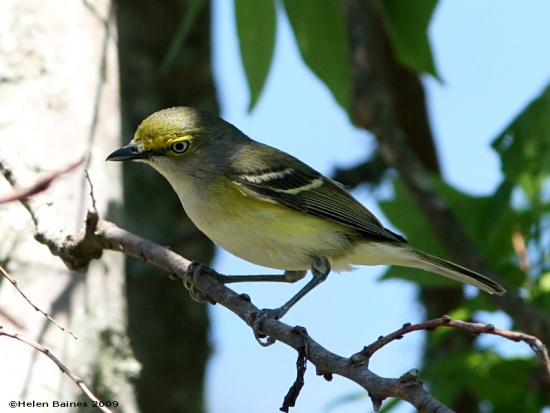 Vireo griseus
Identification
10·7–13·0 cm (4¼-5 in)
Yellowis-grey head
Olive upperparts
White underparts
Yellow flanks
Dark wings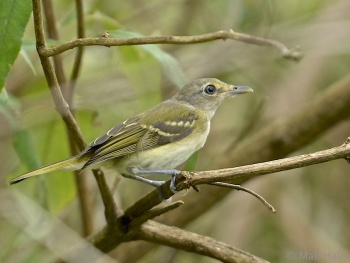 Sexes similar
Juveniles - dark eyes and more yellow beneath.
Distribution
Southeastern USA from New Jersey west to northern Missouri, south to Texas and Florida, eastern Mexico, northern Central America, Cuba and the Bahamas. Populations on the US Gulf coast and further south are resident, but most North American birds migrate south in winter.
Taxonomy
Subspecies
There are 6 subspecies[1]:
V. g. noveboracensis: larger and has more brightly coloured plumage than all other subspecies
V. g. griseus: slightly smaller and duller coloured
V. g. maynardi: greyer above and whiter below
V. g. bermudianus: shorter wings and a duller plumage
V. g. micrus: similar to a smaller maynardi
South Texas to eastern Mexico (south to Puebla and extreme northern Veracruz)
East Mexico (north-eastern Puebla and north-central Veracruz)
Habitat
Bushes and shrubs in abandoned cultivation or overgrown pastures.
Behaviour
Diet
Their diet consists mostly of insects, moths and butterflies, also caterpillars. They feed on berries during the winter months.
Breeding
Monogomous. The nest is cup shaped, lined with grass and attached to a fork in a tree branch by spider webs. The clutch consists of 3-5 dark-spotted white eggs. Both adults incubate the eggs for 12-16 days. The young leave the nest 9-11 days after hatching.
Vocalisation
Song

Recording © by NJLarsen, Carolina Sandhills NWR, South Carolina, USA, 29 April 2023
References
Clements, J. F., T. S. Schulenberg, M. J. Iliff, D. Roberson, T. A. Fredericks, B. L. Sullivan, and C. L. Wood. 2016. The eBird/Clements checklist of birds of the world: v2016, with updates to August 2016. Downloaded from http://www.birds.cornell.edu/clementschecklist/download/
Handbook of the Birds of the World Alive (retrieved August 2016)
Wikipedia
Recommended Citation
External Links
GSearch checked for 2020 platform.1