Vireo flavifrons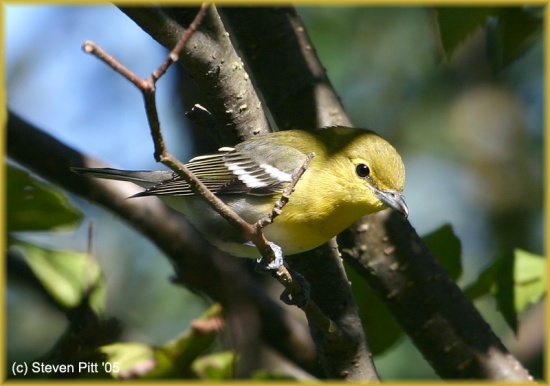 Identification
13–14·8 cm (5-5¾ in)
Yellow to middle of breast, white below. Normally quite strong yellow spectacles divided by a dark line from eye to bill.
Dark legs and feet and bill, which is quite stout.
Distribution
Breeds in eastern part of North America, winters southern Mexico to Colombia and Venezuela and additionally in the Caribbean, mostly in Greater Antilles.
Taxonomy
This is a monotypic species[1].
Habitat
They breed in 0pen deciduous woodland, forest edges and gallery woodland.
Behaviour
Diet
The diet during the breeding season consists of butterflies and moths, bugs, bugs, beetles and flies etc.
Breeding
They make a thick cup nest attached to a fork in a tree branch. They only have one brood each year.
References
Clements, J. F., T. S. Schulenberg, M. J. Iliff, D. Roberson, T. A. Fredericks, B. L. Sullivan, and C. L. Wood. 2017. The eBird/Clements checklist of birds of the world: v2017, with updates to August 2017. Downloaded from http://www.birds.cornell.edu/clementschecklist/download/
Handbook of the Birds of the World Alive (retrieved June 2018)
Recommended Citation
External Links