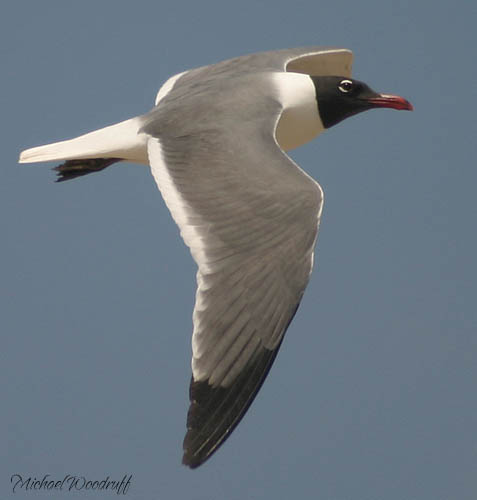 Leucophaeus atricilla
Larus atricilla
Identification
Length 39-46 cm (15½-18 in)
Wingspan 102-120 cm
Weight 240-400 g
One of two North American dark-backed hooded gulls.
Field marks include dark almost slate colored back, extensive black wingtip with very small white primary tips (often worn off by summer), large dark red bill, narrow eye-arcs, and extensive hood in breeding plumage.
Nonbreeding has limited remnants of hood and blacker bill.
Juveniles have totally black primary tips and tail band, gray neck, and black bill.
Similar species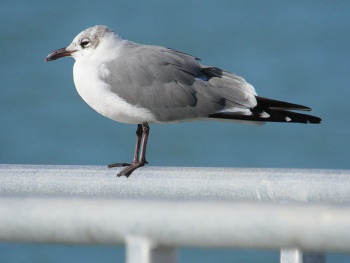 Bonaparte's Gull is smaller with much lighter gray back, smaller black bill (in all plumages), and with almost no white on primary tips.
Black-headed Gull is slightly smaller and shorter-winged with much lighter gray back, less extensive hood, smaller bill, and with a white forewing blaze and little black on the primary tips.
Franklin's Gull is a slightly smaller dark-backed hooded gull with larger white primary tips (even in juvenile plumage), much less extensive black in wingtips when flying, broader eye-arcs, and smaller thinner bill. Juvenile Franklin's have whitish neck (instead of gray).
Distribution
A partial migrant. It is a year-round resident on the eastern and southern coastline of the United States from Delaware to the southern tip of Texas, throughout the Caribbean, the east coast of Mexico and Central America, and locally on the west coast of Mexico and the north coast of South America.
Additionally a breeding summer visitor north to Nova Scotia in Canada, and winters on both coasts of South America south to northern Chile and the Amazon mouth in Brazil.
Rare away from east coast and south coast of the U.S. but with records in almost every state.

Vagrant to Europe with records nearly annually in the UK.
Taxonomy
It was formerly placed it in the genus Larus. The species name atricilla ('black-tailed') shows that Linnaeus's type specimen was a first-year bird.
Subspecies
This is a polytypic species consisting of two subspecies[1]:
Habitat
Breeds on coastal islands, saltmarshes and sand-dunes.
Behavior
Often gathers in large flocks in beachfront areas on lawns, park areas, parking lots, etc.
Diet
Omnivorous - diet includes fish, insects, carrion, mollusks, eggs, worms, young birds, etc. Collects food by foraging on beaches and shallows; does not usually submerge in search of food like some other seabirds.
They are scavengers as well as hunting small prey, and readily take human-supplied food such as fish waste, bread and french fries. Many have learnt to steal food (kleptoparasitism) from Brown Pelicans and other seabirds.
Breeding
A large nest is built of grass and placed on the ground. 3-4 greenish eggs are laid and incubated for about 21 days.
Vocalisation
A laugh-like ha, ha, ha, ha. Also a yelp similar to Common's kee-agh
References
Clements, J. F., T. S. Schulenberg, M. J. Iliff, D. Roberson, T. A. Fredericks, B. L. Sullivan, and C. L. Wood. 2018. The eBird/Clements checklist of birds of the world: v2018. Downloaded from http://www.birds.cornell.edu/clementschecklist/download/
Collins Field Guide 5th Edition
Collins Bird Guide ISBN 0 00 219728 6
Recommended Citation
GSearch checked for 2020 platform.1