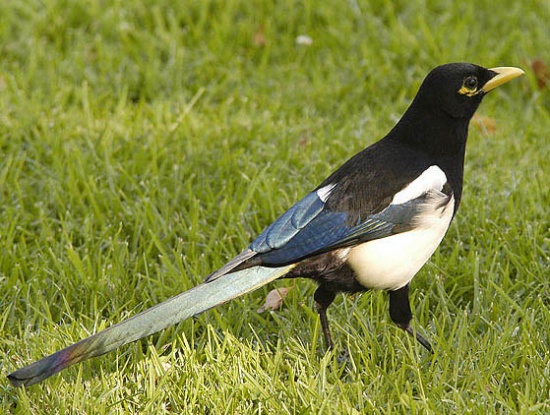 Overview
Despite its ever-increasing population, California's reputation for environmental protection is well deserved. Visiting birders who venture outside of Los Angeles and San Francisco will find vast areas of protected wilderness home to a diverse avifauna.
Birds
Notable Species
Over 600 species have been recorded in California. The state is home to two endemic species, the Yellow-billed Magpie of the Central Valley and the Island Scrub Jay of Santa Cruz Island. Other near-endemics include California Towhee, Nuttall's Woodpecker, California Gnatcatcher, California Thrasher and Tricolored Blackbird. The state bird is California Quail.
Rarities
Every autumn numerous lost migrants from the forests of eastern North America arrive in coastal California, usually at migrant traps such as Point Reyes and the Farallon Islands. Smaller numbers of Siberian vagrants, usually shorebirds, also occur.
Areas of Interest
Great Basin and Modoc Plateau
The far north and east of California is home to a typical selection of Great Basin birds found nowhere else in the state, including Greater Sage Grouse, Juniper Titmouse, Cordilleran Flycatcher, Red-naped Sapsucker, and Sage Thrasher.
Northwest Coast
The great redwood forests of northwestern California support species such as Varied Thrush and the endangered Spotted Owl.
High Sierra
The forests and alpine meadows of the Sierra Nevada attract hordes of tourists, as well as birders in search of Sooty Grouse, Black-backed Woodpecker, Williamson's Sapsucker, Cassin's Finch and Yosemite's isolated population of Great Gray Owls.
Central Valley
The plains and marshes of the Central Valley serve as a winter refuge for waterfowl, including Snow Geese, Ross's Geese, and Tundra Swans. Sandhill Cranes also winter, while the oak-covered foothills hold the endemic Yellow-billed Magpie.
San Francisco Bay Area
Point Reyes is one of the world's great migrant traps. The much-reduced marshes around San Francisco Bay support an endemic subspecies of Ridgway's Rail.
Central Coast
The coastal cliffs from Monterey and Big Sur to the south are excellent places to observe such species as Brandt's Cormorant, Black Oystercatcher, and Black Swift. Inland the dry hills of the Coast Ranges are home to California Thrashers and a reintroduced population of California Condors; the latter is also often seen along the coast.
The offshore Channel Islands National Park is home to the endemic Island Scrub Jay. The boat ride from Ventura to the islands is sometimes good for seabirds and mammals such as sealions, dolphins and whales.
Southern Coast
While southern California's coastal scrub has been greatly reduced by the development of metropolitan Los Angeles, a few remaining patches still hold the endangered California Gnatcatcher.
The Desert
California's deserts are northern and western outposts for species such as Ladder-backed Woodpecker, Scott's Oriole, Brown-crested Flycatcher, and Cactus Wren.
Salton Sea
A brackish lake in the far south of California, noted for huge flocks of wintering waders, and storm-driven subtropical seabirds flying north from the Gulf of Mexico.
Offshore Waters
California's Pacific Coast boasts some of the best pelagic birding in the United States. Monterey Bay and Bodega Bay are popular departure points for birders in search of petrels, shearwaters, and alcids.
References
"Birding Northern California", John Kemper, 1999, Falcon. ISBN 1560448326
"A Birder's Guide to Southern California", Brad Schram and Harold Holt, 1998, American Birding Association. ISBN 1878788175
External Links
Content and images originally posted by nhoneth
Pages in category 'California'
The following 29 pages are in this category, out of 29 total.