This article is incomplete.
This article is missing one or more sections. You can help the BirdForum Opus by expanding it.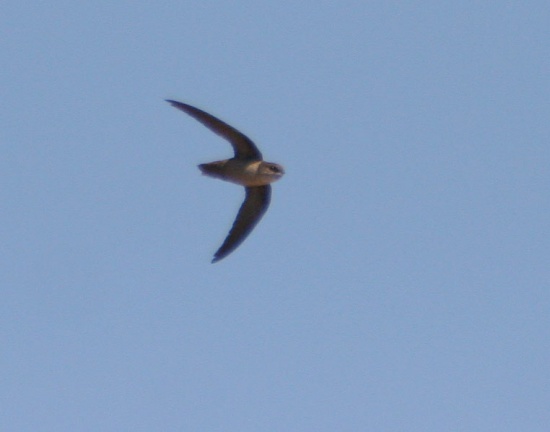 Chaetura vauxi
Identification
10.7 to 11.2 cm
Dusky black head, upperparts and wings
Grey brown underparts, rump and tail coverts
Paler grey throat (whiter in northern birds)

Sexes similar Juveniles: dusky bases to the throat feathers
Distribution
North, Central and South America
North America: Canada, British Columbia, Alaska, Alabama, Arizona, California, Idaho, Montana, Nevada, Oregon, Tennessee, Utah and Washington
Central America: Mexico, Baja California, Baja California Sur, Guatemala, Belize, El Salvador, Honduras, Nicaragua, Costa Rica and Panama
South America: Venezuela
Taxonomy
C. v. andrei is now again regarded as full species, Ashy-tailed Swift.
Subspecies[1]
Six subspecies are recognized:
South-eastern Mexico (Yucatán Peninsula) and Cozumel Island
Eastern Mexico (south-western Tamaulípas and south-eastern San Luis Potosí)
Northern Venezuela (coastal ranges, from Lara and Yaracuy east to Sucre and Monagas)
An additional subspecies warneri is generally considered invalid[1].
Habitat
Mountains and foothills, mainly above 700 m, forests and towns.
Behaviour
Breeding
The cup-shaped twiggy nest is built in a tree hole or cliff crevice. The clutch consists of 3 white eggs.
Diet
Includes flying insects, such as beetles, wasps, termites and flying ants.
References
Clements, J. F., T. S. Schulenberg, M. J. Iliff, S. M. Billerman, T. A. Fredericks, J. A. Gerbracht, D. Lepage, B. L. Sullivan, and C. L. Wood. 2021. The eBird/Clements checklist of Birds of the World: v2021. Downloaded from https://www.birds.cornell.edu/clementschecklist/download/
Avibase
Wikipedia
Recommended Citation
External Links
GSearch checked for 2020 platform.