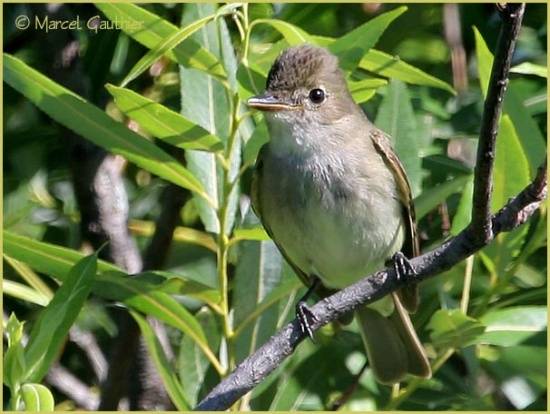 Empidonax alnorum
Identification
5-6" (13-15 cm). Slightly smaller than a House Sparrow. Dull gray-green above, whitish below, with 2 dull white wing bars and narrow white eye ring (often not noticeable).
This is another very difficult Empidonax, and is best identified from similar species by voice, breeding habitat, and nest.
Similar Species
Indistinguishable in appearance from the Willow Flycatcher, and frequents the same habitats. Distinguished from Willow Flycatcher by voice and in some areas by range.
Likely to overlap with Acadian Flycatcher, Black-capped Flycatcher, Buff-breasted Flycatcher, Cordilleran Flycatcher, Dusky Flycatcher, Hammond's Flycatcher, Least Flycatcher, Pacific-slope Flycatcher, Pine Flycatcher, White-throated Flycatcher, Willow Flycatcher, Yellow-bellied Flycatcher, Yellowish Flycatcher.
See also Empidonax.
Distribution
Breeds from Alaska east through Manitoba to Newfoundland and south to British Columbia, Great Lakes region, and southern New England. Winters in the tropics, from Colombia to Bolivia.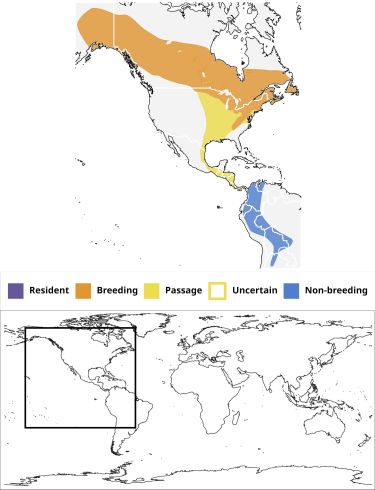 Taxonomy
Subspecies
Clements regards this as a monotypic species [1].
Habitat
Willows, alders, brushy swamps.
Behaviour
Diet
The diet includes insects, some fruit in winter.
Breeding
The nest is a coarse, loose cup. The clutch consists of 3-4 creamy white or buff eggs, unmarked or dotted with dark irregular markings around large end.
Vocalisation
Song: a harsh rreeBEEA
References
Clements, JF. 2009. The Clements Checklist of Birds of the World. 6th ed., with updates to December 2009. Ithaca: Cornell Univ. Press. ISBN 978-0801445019.
All About Birds
Recommended Citation
External Links
GSearch checked for 2020 platform.