Alternative Name: Western Black Oystercatcher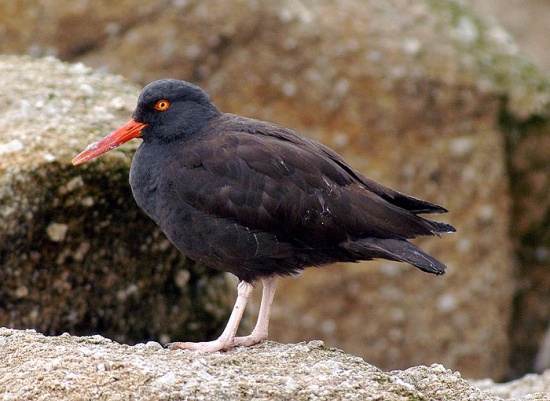 Haematopus bachmani
Identification
All black wader
Long bill is bright red
Pink legs
Eye has bright yellow iris with red eye-ring
Northern birds may be slightly darker
Distribution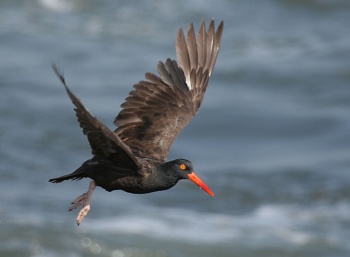 Taxonomy
A monotypic species.[4]. Some authors lump it with the similar Blackish Oystercatcher of South America.
Habitat
Rocky shorelines.
Behaviour
Diet
The diet includes marine invertebrates, particularly mussels, limpets and chitons, also crabs and barnacles. It uses its strong bill to dislodge food and pry shells open.
Breeding
The nests are small bowls or depressions close to the shore filled with small pebbles and shell fragments. 2-3 eggs are laid and are incubated for around 26-28 days. The chicks are capable of leaving the nest after one day; they stay in the territory for about 40 days after fledging. The fledged juveniles stay in the territory until the next breeding season. If the parents migrate, that year's chicks will migrate with them; this happens more often in the north of the range.
Vocalisation
Their shrill cries can often be heard cutting through the roar of ocean waves.
References
Sibley, DA. 2000. The Sibley Guide to Birds. New York: Alfred A. Knopf. ISBN 978-0679451228
Brinkley, ES. 2007. Field Guide to Birds of North America. New York: Sterling Publishing Co., Inc. ISBN 978-1402738746
Andres, B. A. and G. A. Falxa (2020). Black Oystercatcher (Haematopus bachmani), version 1.0. In Birds of the World (A. F. Poole and F. B. Gill, Editors). Cornell Lab of Ornithology, Ithaca, NY, USA. https://doi.org/10.2173/bow.blkoys.01
Clements, J. F., T. S. Schulenberg, M. J. Iliff, S. M. Billerman, T. A. Fredericks, B. L. Sullivan, and C. L. Wood. 2019. The eBird/Clements Checklist of Birds of the World: v2019. Downloaded from http://www.birds.cornell.edu/clementschecklist/download/
Cornell Lab of Ornithology. 2019. Black_Oystercatcher in: All About Birds. Cornell Lab of Ornithology, Ithaca, New York. https://www.allaboutbirds.org/ Accessed on 24May 2020
Recommended Citation
External Links
Use Haematopus bachmani to
Use Black Oystercatcher to
GSearch checked for 2020 platform.