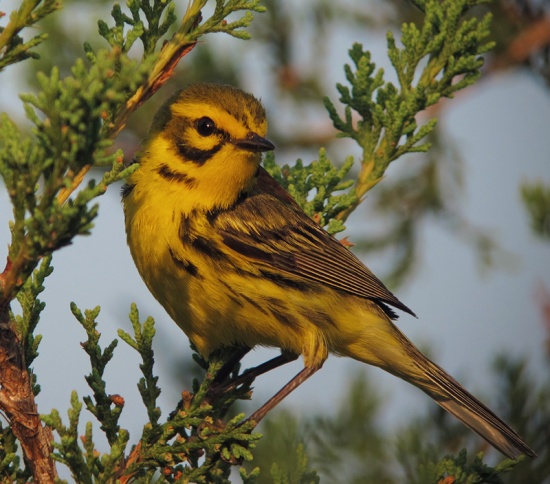 Setophaga discolor
Dendroica discolor
Identification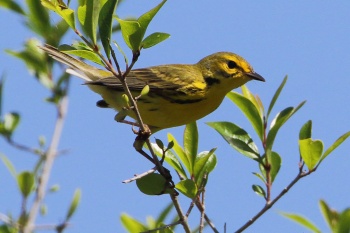 12 cm (4¾ in)
Yellow underparts
Flanks streaked with black
Olive upperparts
Rusty streaks on back
Yellow supercilium
Dark eye-line
Yellow below eye
Long tails
Females and juveniles are duller
Distribution
Eastern North America from Missouri east to southern New York, southern Vermont, southern New Hampshire, and southern Maine south to eastern Texas east to northern Florida.
Other birds migrate to northeastern Mexico and islands in the Caribbean.
Taxonomy
Formerly placed in genus Dendroica by Clements.
Subspecies
There are 2 subspecies1:
Breeds in mangroves and adjacent habitats along coastal Florida
Habitat
Tidal marshes, fields and meadows; bushes near water and forest edges.
They breed in dry scrubby areas. Brushy areas and forest edges.
Behaviour
Diet
Their main diet consists of insects and spiders, supplemented by fruit and berries in the winter months.
Breeding
They build nests of open cups, which are usually placed in a low area of a tree or shrub. They forage for insects on tree branches.
Brown-headed Cowbird parasitise their nests.
Action
They frequently wag their tail feathers.
Reference
Clements, J. F., T. S. Schulenberg, M. J. Iliff, D. Roberson, T. A. Fredericks, B. L. Sullivan, and C. L. Wood. 2016. The eBird/Clements checklist of birds of the world: v2016, with updates to August 2016. Downloaded from http://www.birds.cornell.edu/clementschecklist/download/
Dunn, Jon; Garrett, Kimball. 1997. A Field Guide to Warblers of North America. Boston: Houghton Mifflin Company. ISBN 9780395783214
Handbook of the Birds of the World Alive (retrieved June 2017)
Wikipedia
Recommended Citation
External Links
Search the Gallery using the scientific name:

Search the Gallery using the common name:
GSearch checked for 2020 platform.