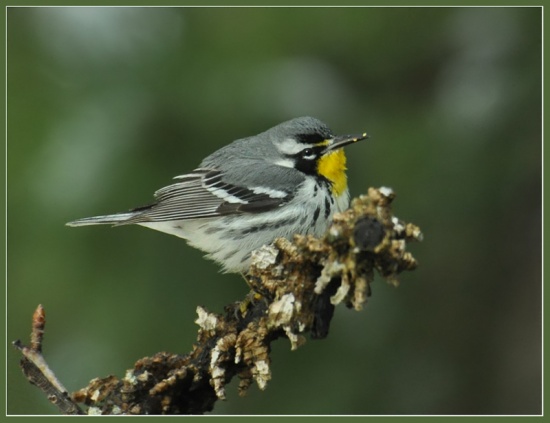 Setophaga dominica
Dendroica dominica
Identification
5½" (14 cm)
Grey, unstreaked upperparts, bright yellow throat, white belly, black face and fore-crown, white supercilium, heavy black streaks on sides.
Sexes alike.
Distribution
Breeds from Illinois, Ohio, and New Jersey south to Missouri, Texas, Gulf Coast, and northern Florida. Occasionally it may stray, and even breed, as far north of its usual range as New York and southern New England. Winters from Gulf Coast states southward.
Taxonomy
Bahama Warbler was formerly included in this species.
Formerly placed in genus Dendroica.
Subspecies
Three subspecies are recognized1.
breeds along the Atlantic coastal plain from southern New Jersey south to central Florida west to Alabama
breeds along coastal Florida panhandle and adjacent Alabama
The subspecies albilora and stoddardi are sometimes seen as synonymous with dominica.
Habitat
Forests of pine, cypress, sycamore, and oak, in both swampy places and dry uplands. This attractive warbler is usually found in live oaks draped with Spanish moss or in longleaf pines.
Behaviour
They often creep over the branches of the trunk like a Black-and-white Warbler.
Diet
Their main diet consists of insects and arthropods.
Breeding
Their nest is a cup formed from grasses, bark strips and weed stems, lined with hair and feathers, which is often set in clumps of Spanish moss or among pine needles. The clutch contains four purple-spotted greenish eggs. There may be a second brood in south-east USA.
Vocalisation
The form breeding in the USA uses a series of clear ringing notes descending in pitch and increasing in speed, rising abruptly at the end, teeew-teeew-teeew-teeew-tew-tew-twi.

References
Clements, J. F., T. S. Schulenberg, M. J. Iliff, D. Roberson, T. A. Fredericks, B. L. Sullivan, and C. L. Wood. 2017. The eBird/Clements checklist of birds of the world: v2017, with updates to August 2017. Downloaded from http://www.birds.cornell.edu/clementschecklist/download/
BirdForum thread discussing the proposal to see flavescens as a full species
Handbook of the Birds of the World Alive (retrieved June 2018)
Recommended Citation
External Links
GSearch checked for 2020 platform.