Empidonax flaviventris
Identification
5 1/2" (14 cm). A very small flycatcher
Olive-green above, yellowish below, including throat, with 2 white wing bars and yellowish eye ring.
Similar Species
Other flycatchers of genus Empidonax (Acadian, Alder, Willow, and Least) have more whitish throats, underparts, and eye rings. Acadian Flycatchers in fall sometimes have yellow throats.
Likely to overlap with Acadian Flycatcher, Alder Flycatcher, Black-capped Flycatcher, Buff-breasted Flycatcher, Cordilleran Flycatcher, Dusky Flycatcher, Gray Flycatcher, Hammond's Flycatcher, Least Flycatcher, Pacific-slope Flycatcher, Pine Flycatcher, White-throated Flycatcher, Willow Flycatcher, Yellowish Flycatcher.
See also Empidonax.
Distribution
Breeds from central Canada and Newfoundland south to Great Lakes region, northern New York, northern New England, and Maritime Provinces.
Winters from Mexico to Panama.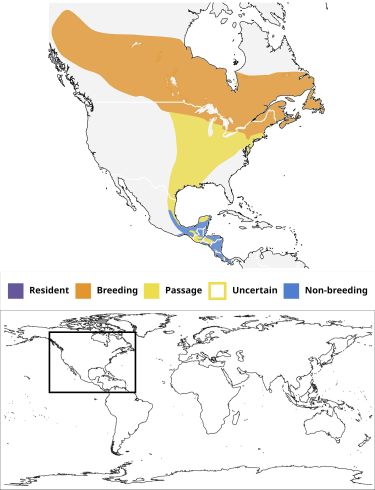 Taxonomy
Subspecies
Clements regards this as a monotypic species [1].
Habitat
Bogs and moist thickets in northern coniferous forests; on migration, in second-growth woodlands and dense thickets.
Behaviour
This retiring little flycatcher spends most of its time on migration in dense thickets.
Breeding
They lay 3 or 4 whitish eggs, with brown spots, in a nest of moss and rootlets on the ground.
Vocalisation
On breeding grounds, a flat chilk or killic; also a rising 2-note whistle, per-wee?
References
Clements, J. F., T. S. Schulenberg, M. J. Iliff, D. Roberson, T. A. Fredericks, B. L. Sullivan, and C. L. Wood. 2014. The eBird/Clements checklist of birds of the world: Version 6.9., with updates to August 2014. Downloaded from http://www.birds.cornell.edu/clementschecklist/download/
Recommended Citation
External Links
GSearch checked for 2020 platform.1